IS FANTASIA FAKING IT? Family, Fame and Falling down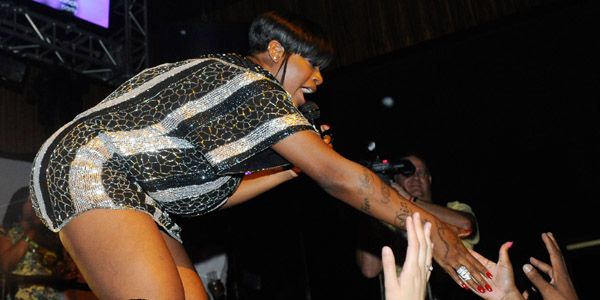 Once again in the throws of media frenzy, Fantasia Barrino shocked her fans when news broke that she had
overdosed on medication
in an attempt to end her life. Walking the through line of personal distress and public resolve, the troubled singer is on the offensive. Facing the media, her fans and foes alike, many of whom believe this is all an act, a perverse marketing ploy to sell her recently released new album, Back to Me, Fantasia seems as resilient as ever.
Fantasia is a soul-singing powerhouse whose raw emotion and gospel-rooted vocal acrobatics propelled her to an unlikely victory in the third season of the most popular talent show in U.S. history, America Idol.
Fantasia was like nothing Middle America had seen before (or more accurately was willing to accept). Although she wowed the voting public week after week with near-flawless performances, Fantasia faced much opposition because as a Black, 19-year-old high school drop-out and single mother, many felt she was not a worthy candidate to tout the Idol brand, despite her undeniable talent.
That was six years ago in 2004. But that is not where her story begins. Since the first moment Fantasia stepped in front of the cameras and onto the world stage, she has lived her life openly, never shying away from what were often her harshest realities. Fantasia has spoken candidly about being a rape victim at age 14, and the public looked on as the 20-something survivor admitted her functional illiteracy, and then proceeded to study with tutors to not only improve her reading, but receive her high school diploma.
Fantasia is no stranger to the peaks and valleys of stardom and the dark shadows that lurk when your support system has cracks in the foundation. Teaming up with cable network VH1 for a reality show, 'Fantasia for Real', Barrino made audiences privy to her home life, one where nearly all the adults in her immediate (and often extended) family are financially dependent on her, leading to passionate blow-ups and emotional drain at every turn. In 2006 Fantasia's own father, Joseph Barrino, filed a $10 million dollar lawsuit against Simon & Schuster, the publisher of her memoir, Fantasia: Life Is Not a Fairytale, claiming he was represented inaccurately in her story. More recently comes Mr. Barrino's most harrowing proclamation, when he stated that while he is sorry it happened, teenage Fantasia "sent a message" to her rapist, possibly inviting the attack all those years ago, by dressing provocatively. In past episodes of the VH1 reality show, father and daughter are seen clashing in angry, teary-eyed exchanges, mostly about Joseph Barrino's dissatisfaction with his level of involvement in her career, a career that has taken, many hits.
Handpicked by Oprah to take over the role of Celie in the smash Broadway version of 'The Color Purple', Fantasia struggled with the intensity of the schedule, missing several shows. Later Barrino had surgery to remove two tumors from her vocal cords. In the midst of her career's whirlwind, Fantasia underwent three management changes, often functioning without any representation at all. Unschooled about the business, Fantasia blamed negligent accountants and lawyers for allowing her taxes (and other bills) to go unpaid resulting in a foreclosure on one of her North Carolina homes (which has since been rectified).
Fantasia has gone on record detailing her battles with depression and the emotional eating habits that cause her weight to fluctuate. She has never masked her high-strung and supersensitive nature or her deep loyalty to her family and fans. Nor has she masked her naiveté, celebrating her "simple country girl" sensibility and her often too-trusting personality. "My problem coming into this game was that I was very naive and very gullible," she told the LA Times. "I can't continue to smile and believe that people are going to be the way that I am. And I'm not saying they're bad people. But you always have to be hands-on with your own stuff, and, unfortunately, I didn't know that and I didn't do that."
Two weeks ago, Fantasia's world was rocked yet again when she was named in divorce proceedings filed by the estranged wife of Antwaun Cook, a man whom she dated on and off earlier this year. Mrs. Cook accused Fantasia specifically of "home-wrecking" and harassment, claiming the singer taunted her by cruelly parading publicly with her husband. Fantasia was devastated, and maintains that she believed Mr. Cook to be permanently and legally separated from his wife (Mr. Cook also came forward with a statement). Prior to this, whispers about Fantasia's new relationship had been brewing in the gossip blogosphere for months, with murky details surfacing sporadically. After the filing, the salacious story exploded in North Carolina, quickly garnering much national attention.
Almost immediately following came word of Fantasia's drug overdose and suicide attempt. The young mother says she became very tired and just "wanted out". The public drew lines in the sand at once. Some were worried about the chanteuse, pointing to her many troubles over the years and saddened that Fantasia seemed to finally reach her breaking point. Others were cynics, painting the overdose as a ploy for sympathy in the face of Mrs. Cook's allegations and a publicity stunt to garner record sales.
Now Fantasia finds herself in a precarious situation, Could she be so callously "using" her downward spiral to promote her newly released album, Back to Me? The ruthlessness and savvy required to conjure such a fete is simply contrary to all we have seen from Fantasia to date.
But how can she bounce back so quickly? Many have asked this question. My response is to look into your own lives. How often have you marveled at your own ability to endure when you were screaming, crying and shutting down inside? Fantasia gives credit to the nurses at the hospital who treated her following the attempt, saying they encouraged to get back on her feet and share her gift with the world. Many experts say that one of the best things a person can do after an attempt on their own lives is to get back into a routine, focusing on things that are productive and make them happy. Is that not what Fantasia is doing by returning to work? She is also making herself available to tell her own truth, not leaving the media to go berserk with rampant speculation.
Angela Ford Johnson is a Philly-based writer and consultant, affectionately known as Angie Writes. Follow her on Twitter (www.twitter.com/angiewrites) and Tumblr (http://soulfuloutbursts.tumblr.com/)