Black Women in the News: Michelle Obama + Beyonce and More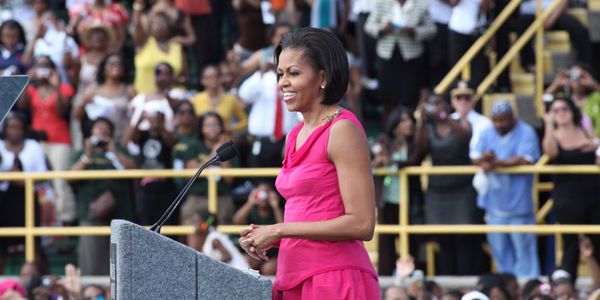 Bob Marley's daughter pleads guilty to drug charge
via
The Grio
:
The youngest child of reggae legend Bob Marley has admitted growing marijuana in her Philadelphia-area home.

The Daily Local News of West Chester reports 29-year-old Makeda Jahnesta Marley pleaded guilty Tuesday to having nearly a dozen large marijuana plants inside her home in Caln, about 30 miles west of Philadelphia.
Michelle Obama Hosts First Salute to Dance at White House
via
BV Black Spin
:
First Lady Michelle Obama hosted her first series of dance performances as part of an event honoring Alvin Ailey's iconic artistic director, Judith Jameson (pictured left), who will be stepping down after a solid 20-year run.

Not only did the legendary Alvin Ailey dancers perform, but also on hand were members of the Paul Taylor Dance Company, the Washington Ballet, the New York City Ballet and Super Cr3w from MTV's 'America's Best Dance Crew,' who all showered Jamison with heartfelt emotion.

The first lady was accompanied by her daughters and mother. Obama was observed clapping after each performance but literally leaped to her feet after Broadway's Dayton Tavares (top right) strutted his stuff on stage as one of the high-flying Billy Elliots.
Basketball Wives Star Royce Reed Calls Police After Dwight Howard Picks Up Son From Daycare
via
TMZ
:
It all went down on August 26 when Howard -- who is in an ongoing custody war with baby mama Royce Reed -- went to pick up their 2-year-old son. Reed, we're told, flipped out and called the cops because she claimed the custody agreement didn't give Howard the right to pick the child up that day.

Reed showed up at the day care center for a showdown, but Howard had already left with the kid.

The cops called Howard ... and the NBA star explained he and his ex made a new agreement ... giving him the right to cart his kid away that day. But ... after speaking with lawyers from both sides, the cops handed down their verdict -- a new custody agreement was discussed but never signed.

The cops ordered Howard to return the child to the day care center, stat. Howard's nanny -- the Henry Kissinger character -- took the boy back to school and Reed took him home.
Beyonce Settles Trespassing Lawsuit
via
TMZ
:
We just spoke with Philip Markowitz -- the guy who sued Beyonce and her production crew back in May for allegedly wreaking havoc in his neighborhood -- and dude told us he just scored a 5-figure settlement to drop the case.

As we previously reported, the trouble began when Beyonce used a home in the Hollywood Hills to shoot a music video for the song "Why Don't You Love Me" ... and the crew allegedly trespassed onto Markowitz's driveway.