The Ultimate Relationship Question: What are we doing here?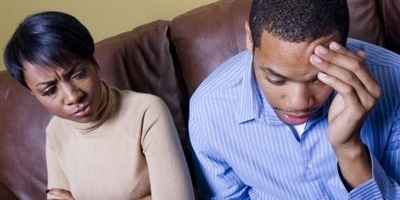 "Love makes your soul crawl out from its hiding place." -Zora Neale Hurston
"What are we doing or where is this going?" That is the famous line that most of us women have asked at least once in our life to a man that we were dating. Some of us ask this question sooner than later because we claim we know what we want. However, I think this question is best asked after you have established a strong relationship with someone (i.e. more than two dates).
It's natural to want to define your relationship with someone, but experience has shown me that we should also value the process of getting to know someone. This will lead to a more committed relationship. I've always been fascinated with the dynamics of love and commitment and this journey is often reflected in my own life and artistic projects. One of our most poignant films we produced that address the ultimate relationship question is,
The Tragedy of Her
.
Before I discuss the film, I want to address briefly when it is appropriate to ask this question. Lately, I have been hearing from men and women that this question is brought up very quickly in the dating game. When you bring this question up with someone that you do not know well, this question can be intimidating and is not coming from a place of love but from fear.
Asking questions from fear instead of love, will not get the response you may want from that person. I have two brothers that are single and often we they begin dating a woman, she brings this question up, "what are we doing here?" and their response is usually a confused one. It goes something like this: I'm just trying to get to know this woman, why is she trying to pressure me into a relationship?" I think that is a fair question to ask when you truly do not know the person you are dating. That is why you're dating-to get to know someone. However, many single women that I know want to skip the formalities of dating and they want to go straight to the serious stuff.
Ladies, it's good to know what you want but take your time in getting to know your mate. It's worth it. When you wait, you are able to have a bigger impact with this question. This is where we meet the characters, "woman" and "man" in
The Tragedy of Her
.
In the film,
The Tragedy of Her
, which will screen next week online there are two main characters (woman and man) that tackle the challenges of commitment in a an undefined relationship.
The Tragedy of Her
, challenges us to think about how many days, weeks, months, and years are we to spend together before we define what it is that we have together?
In the film, Nedra McClyde who plays woman and Cornelius Smith Jr., man played by Soap Opera (All My Children) star, enjoy spending time together. They clearly have been together for more than just a few months. In fact, it's been almost two years. They feel comfortable with another. They speak without words. They are in love. We watch their most intimate moments on screen and we can't help but smile as you see their interaction. Seeing their intimacy allows us to but think about our own significant other (past, present, or future).
When we first screened this film in New York City, I was amazed by the flutter of nervous but knowing laughter that scattered across the room as Nedra's character asks this question, "what are we doing? What are we?" and Cornelius' character tries to avoid it by saying, "why do we have to put a label on it. Let's just let it be". Whenever, I see the film I reflect on the fact of why is it left up to the woman to bring this question up the majority of the time? Maybe because this question makes us feel so vulnerable, so raw and it's acceptable for women to be viewed in a vulnerable way but men get a pass? Whether you are a man or a woman, when you are truly in love, your emotions usually come from a honest and sacred place.
Later in the film, the couple is faced with dealing with an illness and we realize that if you truly love someone or care deeply for them, you owe to yourself and to the other person to tell them how you truly feel. Be honest enough to define what it is that you have. You can decide what your relationship is together, instead of making assumptions. Have the courage to tell someone how you really feel because no day is promised. We shouldn't have to wait for a tragedy for us to realize how much someone means to us.
I would love to hear your comments or reflections on this topic and/or the film,
The Tragedy of Her
.
The Tragedy of Her
will screen for free next Wed. 5/25 at 8pm (est)
Dr. Shondrika Moss-Bouldin is the proud co-founder of Soulploitation Creative Works (visual and performing arts production company) and Dramatic Dynamics, LLC (corporate training). She is currently producing the film, Color the Night starring Keenyah Hill (America's Next Top Model finalist). For further information visit here.