Lessons Learned from My Mother's Kitchen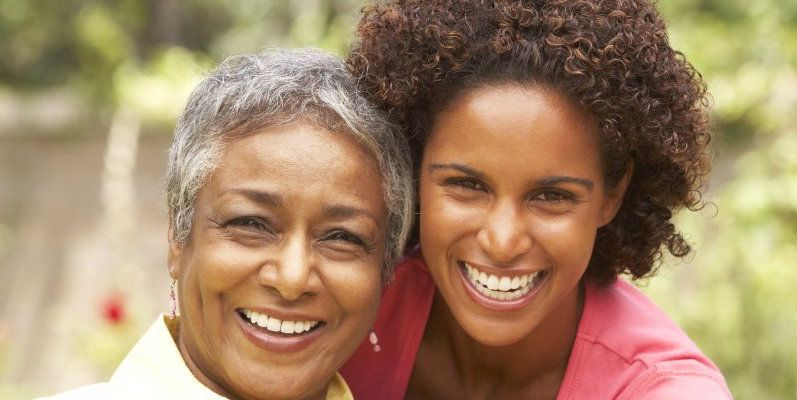 by Alice Rollins
The kitchen in my house was not a magazine cover of cool, stainless steel appliances, granite countertops and cherry wood cabinetry. There were no matching towels, pot holders and kitchen decor. No, my kitchen was, well—old. The walls were covered in smudges made at the hands of myself and my three other siblings. The refrigerator was in desperate need to be replaced and the stove was a battleground between the side of cooking lard stored in a tin can and the food that my mother had prepared on any given night.
The floor creaked depending on where your foot landed and the only picture that hung on the wall was the one connected to the calendar. It was the perfect model for any novice home remodeler looking to get her/his business off the ground. Nonetheless, it was home—home to some of the most intimate, poignant and life-changing conversations I had with my mother.
For generations the kitchen has served as a common mutual ground for many Black women to openly, freely and without judgment (sometimes) discuss life's complexities. From slavery, to civil rights, relationships with the opposite or same sex, sex, children, marriage, career, food, school, church, dogs, cats and more, the kitchen as an institution has stood as a formidable and impenetrable ground for Black women's voices and solitude.
For my mother and me it was all of those things and more. It was our fortress in plain sight. Our secret meeting ground where we could get away from the testosterone that penetrated every other aspect of our home. It was our mutual healing stone for life's journey. The intimacy we shared sitting in our old kitchen laughing and crying, sharing moments of introspective reflection, all helped to mold me into the woman I am today. I may not have always agreed with my mother's advice, (you always think you know more than they do at times), but the lessons learned from being in her presence has been priceless.
Like other Black women whom society had tried to marginalize and dismiss, my mother, in all her 5'4 glory, railed against society's stereotypical images and used her voice, her mother's voice and those who came before her to impart unto me what truly constituted a "great woman." In our kitchen I learned the value of self-respect and the belief in one's self and the gifts and talents I was blessed to have. In our kitchen I learned the value of speaking up and out for others—having the courage to go the extra mile for those in need. In our kitchen I learned that integrity was not a word to simply throw around, but a characteristic that you embodied and held one's self accountable.
Yes, it was there in the midst of listening to fried chicken crackle and pop from the cast iron frying pan to grits bubbling over on the stove, that my mother taught me how to be the best woman—Black woman, I could be in this world. My place on earth was not determined by the material successes of life, but the happiness I internalized knowing that I had at every turn did my absolute best. Money was not, nor could it ever be, the cure to whatever life threw at me. Only my humanity, belief in God's love and power, and the ability to make the best (not law abiding right) decisions that one's legacy was determined upon.
Sharing in the Black cultural tradition of oral storytelling, my proud mother reigned down a hail of activism, civility, justice, kindness, community outreach and, most importantly, love. She provided me with a foundation that could never be unearthed. Remembering the thousands of words that have passed from her lips to my very own is why I honor her. It was there sitting in our old kitchen that I learned how to simply and eloquently be Alice.
---
Alice J. Rollins is an aspiring freelance writer and blogger who holds an M.A. in Women's and Gender Studies. Her areas of interest include African American women's spirituality, feminist/womanist pedagogy and politics of migration. She is currently based in Chicago, IL. Email her at: alice@forharriet.com