The Life of a So-Called Golden Child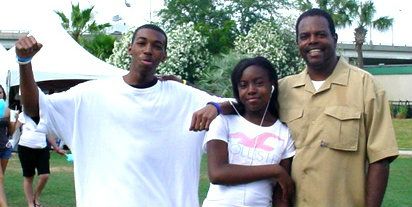 I am my parents' youngest child and only daughter. In normal instances, my role is very coveted. I am spoiled rotten, get away with anything and get everything that I want. While this may have been true once upon a time, these characteristics no longer describe my life as an adult and as a former "golden child". Growing up was the easiest part of playing the role of "baby girl" that I was born into. I only had to be myself and do what made me happy. But after a certain age, I realized that my brothers and I were separately accountable for our life choices.
Education was a priority for my mother, who was a schoolteacher at one point, and she tried to instill its importance into me and my two older brothers. My brothers and I were only in public school briefly in elementary school. After that we all quickly transitioned into charter, Catholic or private schools. In theory, we all had equal opportunity to get quality educations and do well academically. In practice, we embarked on three different life journeys.
My oldest brother left home at fourteen. He started hanging out with the wrong crowd, as many teenage boys are prone to do, and went to live with my grandparents. Living with them he went to church regularly, played basketball in high school and graduated but did not go on to college. Instead, he had his first child and has not returned to school or held a steady job since.
My next brother's story is different, but continues the theme of a dream deferred. He graduated from high school, again a huge accomplishment for Black men; the Schott Foundation for Public Education reported that in 2012,
the graduation rate for Black males was 52%
, an increase from previous years. He then enrolled in college for the fall, lived at home and commuted to campus for classes. However, he dropped out of school in his second semester and has been in and out of school for the past few years. Fortunately, he is currently in school and is now taking his academic career very seriously.
I, like my brothers, graduated high school. I did not initially do anything different from them nor did I have special advantages that they did not. I went away to college, eight hours away from home. I graduated, worked a lucrative summer position (for a recent college grad anyway) then came home and eventually secured full-time employment.
In my brothers' eyes, I am still the golden child. I feel uneasy seeing their emotionless faces when I receive praise and admiration for my achievements from friends and family members in their presence. The reality is that I am human, just like them. I have made mistakes, continue to make them, and hope to learn from them. Yes my life is more conventionally successful than theirs on the surface, but everyone's life path is different.
There were many times when I disappointed my parents and myself, but I never stayed discouraged for long. I kept the bigger picture in mind and surrounded myself with positive people who had my best interests in mind. I know that my brothers are proud of me and I applaud their accomplishments as well, but I can't help but feel that they maintain this distorted view of me.
At times, I feel a sense of responsibility to make informed life decisions because of the choices that my brothers made. I went from chasing after them as their baby sister to setting an example for them as an adult. On the one hand, I learned what not to do from them and on the other hand, they have seen that obtaining success and following one's dreams is possible.
As I am attempting to bring my career goals into fruition I make sure to stay aware of and invested in their dreams and aspirations, whether its college-oriented or not. I offer advice when I can and encourage them to pursue whatever makes them happy. But through all of this, I've learned that I can't change their perceptions of me. They had and continue to have the ability to make their own life decisions, which is something that I have no control over. I just hope that one day they understand that I am still their sister and not their adversary.
---
Precious J. is an aspiring culture writer and music enthusiast based in DC. For more on her contemplations about blackness, culture and music, email her at:
Precious@ForHarriet.com