The Myth of the Black Woman: Sophia and Madea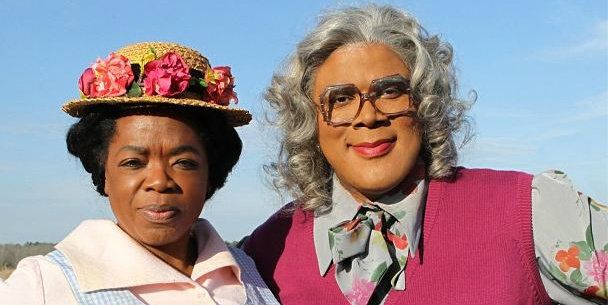 by Tania L. Balan-Gaubert
When it comes to representation, women of color have experienced their fair share of stereotyping. Black women in particular have struggled to stand up straight in what Melissa Harris-Perry refers to as the "crooked room" in her book Sister Citizen: Shame, Stereotypes, and Black Women in America
.
In the room, which represents the structural constraints placed on Black women, stereotypical representations like Mammy, Jezebel, Sapphire, the Welfare Queen and the Angry Black Woman loom large. These powerful mythologies permeate American popular culture and international understandings of what it means to be a black woman.
Standing up straight in a world where stereotypical examples of black womanhood are not only rampant, but also commercialized is a daily struggle that stays real. That struggle is made evermore difficult when one encounters representations in the media that contradict our feelings and understandings of particular black women figures.
In a recent campaign for Oprah Winfrey's cable network, OWN, Oprah reprises her role of Sophia from the film The Color Purple
(1985) and joins Tyler Perry in character as Madea to promote the premiere of two new sitcoms.

The Haves and the Have Nots

; and

Love Thy Neighbor

are Perry's latest creations and premiered on the network last week.
Madea meets Sophia on a dusty road. Looking for the answer to what channel OWN is on (since it is assigned to a different channel per cable provider), Madea stops to ask Sophia. She responds with a monologue, similar to the one she delivered in

The Color Purple

, in which she declares the abuses she's suffered in life and her struggle to fight back. For Madea and the viewer, Sophia rants about the abuses OWN suffers as a network still in its infancy.
On the one hand, the commercial is funny and familiar. Both Sophia and Madea are beloved popular culture figures. On the other hand, the commercial draws on bastardized imagery of black women stereotypes.
The commercial use of Sophia's image, juxtaposed with Madea, runs the risk of evoking cognitive dissonance. It is arguable that Madea is understood in the public imagination to be a stereotype, a fictional character created for entertainment purposes. Sophia however, is arguably understood to be a visceral portrayal of black women's experiences.
How does one reconcile that Sophia represents a watershed moment in Oprah's career with the reality that she is now reduced to a stereotype? What happens when successful black women embody particular stereotypes to further their success? What are the effects of such depictions on individuals who look up to figures like Oprah and Tyler Perry as models for black achievement?
The internalization of such stereotypes by black women and their effects is perhaps the most difficult reality to address. It opens up a dialogue that demands not only seeing the crooked room for what it is, but doing what is necessary to break down the walls.
---
Tania L. Balan-Gaubert
is a Haitian American native of Chicago. She received her master's degree in African American Studies from Columbia University and currently resides in Brooklyn. You can find her on Twitter and Instagram @tanialaure.