Get Moving! Unique & Free Workouts To Keep You Healthy & Happy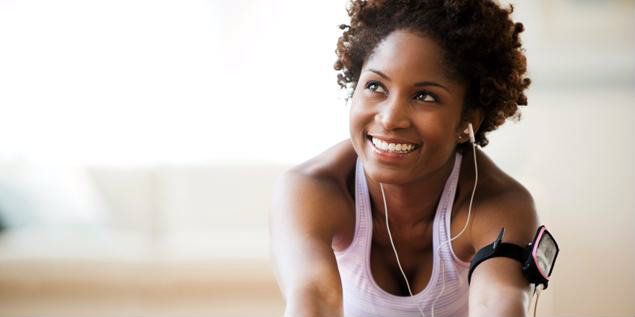 by Bee Quammie
Never mind the incessant articles about Black women and their restrictions or aversions to workin' on their fitness - more and more women of colour are stepping up their health and wellness games in new ways. If you detest the gym like I do, you may be wondering how can you find fun, unique, easily accessible, and cost-effective fitness options. Look no further! Here are some fitness choices that will help you hit your health goals!
I've personally found that dance is a full-body workout that is so fun, you don't even realize how much work your body is doing. Since moving from a small town to a big city, I've been able to take part in different forms of diasporic dance such as Afro-Cuban and West African dance - and I've loved every minute. The best dance classes are the ones that challenge your body to move and maneuver itself in ways you likely haven't before; they encourage you to leave your apprehensions at the door; and they give you a bit of context into the history and culture surrounding the art. Whether you're into salsa, dances of the Orishas, hip hop, or jazz - see what's in your area and take advantage!
Socacize
is a unique workout created by Trinidad-born, Toronto-based Ayanna Lee-Rivears. Combining cardio, weight training, and strength training with dance moves and music from the Caribbean, Socacize's popularity has exploded thanks to its ability to be a fun yet effective workout. Classes are available in Canada, St. Lucia, and across the U.S. in both 1-hour class and special 2-hour bootcamp class formats. If you like to "wine and tone" to some reggae or get your heart pumping with some soca, Socacize is for you!
If you have a smartphone and/or a laptop, you don't even need to leave the comfort of your home to get a good workout in! The digital world is filled with a multitude of awesome and free resources to help you get and stay healthy! The
NTC Nike Training Club app
is one of my favourites - select a carefully curated 15-, 30-, or 45-minute workout, fire up your music playlist, and get to it! NTC is great for a variety of reasons - one, being that each exercise move is timed, so you can pace yourself and do as many as you can in the given time slot. Two, because the app gives you the opportunity to watch a video tutorial of any move you're unfamiliar with. Three, because you don't necessarily need to have any workout equipment to feel the burn. Bonus? At the end of each workout, you're prompted to set a reminder in your phone for the next one!
Another great free site is
The Daily HIIT
(high-intensity interval training). I'll admit - I was a bit intimidated when I first visited this site. The rock-hard bodies of the fitness models and online trainers made me feel that maybe I wasn't ready for it just yet, but I tried it anyways. Surprise, surprise - I was happy to learn that I could keep up a lot better than I expected! Granted, these workouts are quite challenging, and some do advocate for the use of workout equipment like hand weights or kettlebells - but at no more than 12 minutes in length, these workouts are a great way to squeeze in some quick yet challenging exercise into your life.
A bonus free workout that I never considered until recently is mall-walking. Working at the mall during high school, I often saw groups of seniors power walking through the corridors in the early morning before stores opened. It never crossed my mind again, until I became pregnant and everyone said, "Walking is the best exercise!" Being pregnant in the middle of one of the most brutal winters Toronto has seen makes that a bit difficult, so mall-walking popped back up as an option. If you like to walk (or even do a light jog), and want a free, indoor option, check your with your local mall and see if mall-walking is available!
All in all, one of the keys to health and wellness success is to make it fun. Try one of these options or look into something else that has always piqued your interest, and get moving! You'll thank yourself later!
Related:
Blogs and Online Communities To Help Black Women Stay Healthy and Fit
I'm Getting Healthy Because Never-ending Battles Require Sustainable Energy
The Fight for Food: Black Women Food Revolutionaries
---
Bridget "Bee" Quammie is a Toronto-based healthcare professional, writer, social media consultant, and founder of
83toinfinity.com
. Recognized by Black Enterprise and the 2014 Black Canadians Awards for her digital work, Bee aims to live '83 To Infinity's motto: "It's never too late to learn something new, do something new, or be someone new." Follow her on Twitter at
@BeeSince83
.