Are TV Representations of Black Women Getting Better?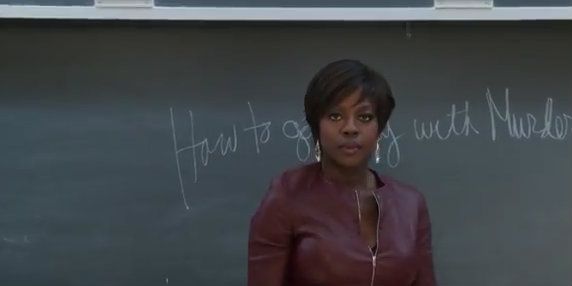 I spend an excessive amount watching television. It is my favorite pastime. It is also my favorite mode of storytelling as it allows for steady, complex character development. Because of my obsession with TV, I spend a lot of time discussing it with my homegirls. On a weekly basis, I am analyzing some new plot development or character reveal with at least one friend. (When Scandal is airing new episodes, I'm doing it with every Black woman on my Facebook News Feed.)
Beyond the normal rehashing of recent episodes and trying to predict what will happen next, my friends and I also spend a lot of time reflecting on the kind of impact media images and representations have on us. Our interest in TV does not stop with entertainment. On some level, we all interact with media to be engaged with stories that reflect parts of our own selves and provide us with some sense of deeper meaning.
Until recently, we've had a much harder time finding these characters, stories, and meanings, as the TV portrayals of Black women were extremely narrow. While reality shows like Love and Hip Hop, Basketball Wives, and Real Housewives of Atlanta supply ample drama and sensational spectacle, we do not relate to these women on a personal level. While the stars of these shows may not all be the same, they follow very recognizable stereotypes of the Black woman: Sapphire, Jezebel, or a hybrid combination of the two.
We are tired of mainstream media's insistence on pushing out the same old archetypes of Black Women. We have been wondering, "When will shows represent Black women (and women of color in general) that are reflective of our humanity, of our individuality?" For a while, it seemed like YouTube was the only place we could find these portrayals, with web series like Issa Rae's Misadventures of Awkward Black Girl doing for us what mainstream TV could not and would not.
It seems like 2014 has been a landmark year for Black women on TV, with more networks producing shows that seem to focus on us. There has been the unprecedented success of Shonda Rhimes and ABC's Scandal, in addition to the abundance of reality TV shows with Black women as the lead cast. BET's Being Mary Jane joined in on the fun too. (And then there's whatever Tyler Perry is producing, but that's a whole other post…)
With these shows, it feels as if major networks and production companies finally understand that diversity is good for TV business. People will watch shows with Black women in lead roles. As a matter of fact, millions of people will watch these shows. Every week. And react to them in real time on social media.
Thus, I am incredibly excited for this fall, when we get to see
Viola Davis
,
Tracee Ellis Ross
, and Halle Berry on prime time TV. (Not to mention comedienne Maya Rudolph's show, which premiered this week.) But I am still disturbed why it's taken so long for television executives to finally start creating shows by, for, and about Black women. Especially since, prior to the mid-1990s, TV was inundated with interesting, complex, entertaining Black women characters.
Between the 1970s and early 1990s, there were diverse portrayals of Black Women on mainstream TV. Although I was only born in 1989, I remember watching reruns of shows like The Cosby Show, Family Matters, Martin, Living Single, Fresh Prince of Bel-Air, and Moesha. These shows were successful and the women in them as varied as the Diaspora itself. We had bougie, privileged Hilary. We had the super smart and successful mothers like Vivian Banks and
Clair Huxtable
. We had sassy, no-nonsense Gina.
And then through the latter part of the late 90s and first decade of the 2000s, the production of shows that depicted how Black women could exist in the world stopped. We had a few successful sitcoms featuring Black female characters, but none of them stand out to me the way those earlier characters did and still do.
Let's hope that this new group of TV shows continues to push forward the nuanced, human portrayals of Black women. And let's hope that Hollywood finally begins to recognize that audiences will invest in their shows if they would only invest in us.
---
Michelle Denise Jackson is a writer, performer, and storyteller from Southern California. She has performed in Southern California, New York, New Jersey, Michigan, and Washington, D.C. For more information, visit her website at
michelledenisejackson.com
.