Where are Black Women in Discussions of the Wage Gap?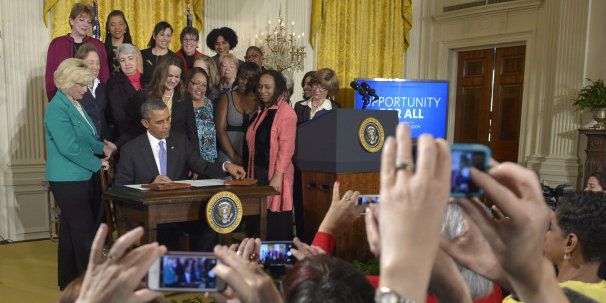 Marjorie Valbrun for Washington Post - Black women are among the lowest paid workers in the United States. In many professions they're near the bottom of the pay scale. They earn less than white men – on average just 64 cents for every dollar paid to white men – and less than women overall, who earn on average 77 cents for every dollar earned by white men. And despite far outnumbering black men in the labor market, black women also earn less than their low-wage male counterparts.
Nevertheless, African-American women are heads of households in larger numbers than any other group. Some 4,078,457 U.S. households are headed by black women, and 38.1 percent, or 1,553,892, of those families live below the poverty level, according to the National Partnership for Women and Families. An analysis by the organization using U.S. Census Bureau figures clearly indicates that black women are holding down jobs that don't pay them enough to adequately support their families. Many of these women work in low-wage service industry jobs. Even in black households headed by two married parents, more than 50 percent of married mothers bring in half or more than half of their families' income, the analysis found.
These numbers have far-reaching implications for black families, according to an issue brief, "How pay in equity hurts women of color," prepared by the Center for American Progress. Closing the wage gap is key to reducing poverty among women of color, including Hispanic women who earn 54 cents for every dollar earned by white men – and their families. Yet when it comes to policy debates about fair pay and gender gaps, income inequality and growing poverty, black women don't appear to be visibly out front in large numbers on these important issues.
It's unclear if they're choosing not to lead the charge, or if they're being ignored by the media or drowned out by louder factions in the pitched political battles over fair pay. Some may simply be too busy working and others may fear losing their jobs in a tight labor market.
By many accounts, the 15 black female members of Congress and the heads of black women's civil rights organizations have worked hard to improve the economic status of women of color, but none has emerged as a leading voice on this issue.
"I just don't think that black women are covered enough on these issues," says Melanie L. Campbell, president and CEO of the National Coalition on Black Civic Participation and convener of the Black Women's Roundtable. "Part of it is we have to be more vocal and make sure we're more organized and getting more actively involved when we have the opportunities."
Campbell considers U.S. Rep. Marcia Fudge, who chairs the 43-member Congressional Black Caucus, one of the strongest leaders in Congress on fair pay issues. Still, she says, "We just don't have enough women in Congress."
Photo Credit: AP/Susan Walsh
Continue reading at She the People