School Daze: Revolution, Romance and Rage on a White College Campus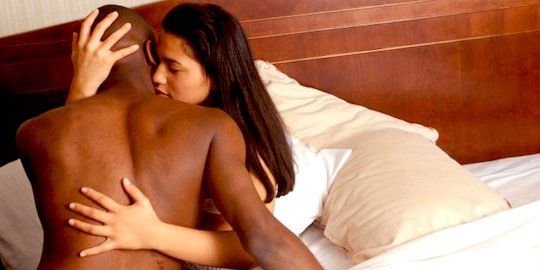 by Audrey Kerr
I am sitting on the campus bus reading Soul on Ice, and Eldridge Cleaver is telling me that the rape of black women is a dress rehearsal for the rape of white women. I am a 17-year-old Black woman. My insatiable hunger for Justice causes me to find a location for Cleaver's logic in my body -- to wrap his bestial aggression around my raging race consciousness. I am hungry to assume the very best in blackness and maleness.
Just then, my eyes fix on a black man in the back of the bus whose eyes are deeply genuflected in the same book I'm reading. I feel some vague sense of shame that his beauty interests me like no manifesto ever has.
In 1988, student activism and racial politics fueled the flames of black community at Rutgers University: we sought to dethrone the university's president; we joined the war against apartheid in South Africa; we hosted Louis Farrakhan, and Chuck Dee, and Angela Davis on campus.
The brother who was reading Cleaver on the bus was a senior, and the leader of the black student movement. Women approach him with trepidation.
So when I asked for the opportunity to write a piece about him for the Black student paper, it seemed a good idea to approach him with Cleaver in hand. It was a Saturday night, and over 200 students had crammed into a hall to hear Sistah Souljah speak. I introduced myself: he was even more alarmingly handsome close up -- tall and slim, with large questioning eyes.
I struggle justify my presence.
"My name is Audrey," I smiled uncomfortably.
"You look so familiar," he said, "Like I've always known you."
He asked for my number and while we set up an interview, it was soon apparent that there was to be no article; just marathon phone conversations about "the struggle." Days bled into nights, until – it seemed – we'd become inseparable.
Unabashedly and unapologetically, I ditched everyone, staying up until the wee hours of the morning in his dorm room eating greasy chicken then falling asleep with his breath on my cheek.
He said, "I love you" easily, and shared information as if I was writing his biography. Like a lot of political brothers on campus during that time, the Nation of Islam was courting him, and sexual restraint was something he supported in the abstract.
I was perpetually awe of his political prowess, tested by the depth of our conversations, humbled by his intellectual dexterity. Tucked away was the reality that the more clear I became about who he was, the less clarity I had about me. In his presence, I was both euphoric and invisible. Black girl lost.
Between doing laundry and breaking bread, reading Baraka and laying around for obscene amounts of time, I was learning – slowly and subtly – the habit of yielding to his wisdom. I knew de Tocqueville but he knew Niche. I knew black history but he --growing up in the projects –reeked of an authenticity that my middle class upbringing denied me. The rap artists I listened to were his boys. Little by little I
found myself being put in my place. My voice got quieter; my once bold disposition, vaguely obedient.
One of his closest friends was a former Rutgers student who now held that nebulous label "public persona". Despite her growing popularity, she would show up at his dorm room sporting elaborate hair weaves, all the time talking about the problem of "black folks not being in touch with their roots." Usually I slumped in a chair reading, or otherwise acting distracted. One day, as she was giving me a lecture about black people 'emulatin' the man, I said, "What about weaves? Is that emulating the man'?"
"African women have been weaving elaborate styles into their hair since the beginning of time," she yelled, as if she'd been waiting for a fight.
I furrowed my brow, and returned to my reading. Being in The Movement didn't require natural hair in 1989. Moreover, sisterhood, it appeared, was on the back burner. My steady support of the catchall phrase "the black man" – as a metaphor for black community -- gained me a wide-eyed, applauding audience of folks who thought I was a "right-on sistah."
After about eight months of exclusive dating and a steady flow of spirit-breaking incidents, he – thus we -- started to implode.
He believed the university was tapping his phone, and his paranoia bled over to the most loyal of his friends. He could trust no one, and I was also expected to sever friendships. His behavior was increasingly erratic -- his temper, volatile and uncontainable.
He started to pull pranks on me to test my loyalty and refusing to kiss me if I wore lipsticks that were made from "any kind of swine."
I was "a sell-out," "ignorant to the truth," "unable to take direction."
I ended the relationship.
Meanwhile, the political angst between the white administration and black students was escalating, and exiting his life quickly moved me to the political margins. I was uncertain, now, of my purpose. I didn't want to go to meetings to listen to his pronouncements about respecting African queens. That language had become poisonous darts pummeling, me in light of his verbal and emotional abusiveness.
One day, shortly after we had broken up, he arrived at my room and handed me a small package wrapped in paper bag. "Please put this away for me," he said. "And for your own protection, don't open it."
Despite our differences, I put it away, convinced that it was some tool of the white man to bring a brother down. I soon found out from other black students that the package contained a knife. The police were looking for it, and for him. This was, as I figured it, my first real test. I decided that racial loyalty trumped the white man's thirst for black blood.
A few days later, while I was home on spring break, he called me at my parent's house looking for a place to stay: he had been kicked out of school. "I'm hanging up," I said.
"If you hang up this phone," he said, "I will come to New York, and kill every living thing in your parents' house.
"Don't you understand that this is far bigger than you?"
I wept. Had I been set up? Was the knife going to be used to bribe me? What was he capable of? I started to wonder if there ever was a "Movement" and – if so – what was it?
My life became a series of calculated movements. Letters
arrived in the mail from him everyday, until I had fifty or sixty letters stuffed into shoeboxes. I found myself looking around corners and startled by shadows.
It was several months later when he arrived back at my room on campus to claim his knife. Because it was the evening of a major black students' party, I was the only person on the floor of my all-black dorm. He was the last person I expected, which is why I answered my door.
The neat, pretty boy I had fallen in love with on the back of the bus was long gone.
I gave him the knife and asked him to leave.
He took the knife out of the paper bag. With the knife in his downward pointed hand, he stood so close to me that I could feel his warm breath on my forehead. "Don't you know how frequently people die at the hand of people who love them because they push them over the edge?
"Why don't women ever help a brother off the edge?"
I could hear my own breath over the racing of my heart.
"Lay down," he said. My face struck a pose of terror. His face betrayed his rage.
"You see? You see how you are? You think I would rape you?
"You're just like a white girl."
All at once, my heart crumbled and my spirit left me. All at once, whiteness became the miscarriage of racial integrity and the marker of racial duplicity. There it was: the ultimate insult, and the greatest fear of a revolutionary Black girl. I was broken, helpless, furious.
But his fury rose higher. He grasped the knife tighter. "Say 'He never forced himself on me.'"
I couldn't think or speak.
"I want you to sleep," he backed up, "and I want to sleep, and we'll talk about this when we wake up. Get in the bottom bunk."
He yanked the phone out of the wall.
I stiffly placed my head on the pillow and listened to him breathe above me until I thought he was asleep. Then I sat up quietly, pushing the image of my dead self to the side, and darted for the door, then to the hall phone.
I dialed the police. And, at that moment, I heard the room door open in the distance, then slam shut, then the scattering of feet down the stairs and out the front door.
I ran back to my room, locked the door and darted to the phone -- attempting to plug it back into the wall -- when I heard noise coming from my closet. I turned hastily and watched as the closet door opened slowly. And there he stood, still in my room, with a duffle bag pressed against his side in the shape and position of a shotgun.
"Sisters will sell you out to the man every time," he said.
Just then there was a knock at the door; a friend who'd sensed something was wrong. "Audrey?" I heard Andy's saving voice, then the pounding on the door.
In a flash, he was gone.
Although there were a few peace-seeking phone calls through our divergent life journeys, the call I remember most came more than fifteen years later.
He was calling for a campaign contribution.
I told him I was flabbergasted by the arrogance of his calling. He replied that he thought I'd want to help him as a friend. "In what lifetime do you think I could ever call you – for any reason -- and ask for money, friend?"
He didn't reply. I continued, "You did a significant amount of damage to a very young girl. You really don't get it, do you?"
There was a brief silence, after which he said – seeming to cast all of my words into a great, black hole -- "I just want to say, for the record, that I really don't recall…penetrating you."
I froze, confused. What was he talking about?
Then – in a flash -- I remembered that we'd started dating before my 18th birthday. Did he remember this? My body stiffened.
Silence. Finally he spoke, "I really am sorry. But, I guess I don't remember a lot of things. I'm not the same person I was. I've let it go."
"What did you let go?" I asked. "Other people's pain?" I paced my room. "Yeah, that's big of you. You know, your public penance doesn't sweep away your trail of carnage." I searched for Grace – for Beauty – for Love, but they were nowhere to be found.
He was silent. We ended the conversation. I was sorry that I hadn't remained the bigger person. For the first time, I felt something I hadn't expected to feel towards him: remorse.
Cleaver said that "Respect commands itself and can neither be given nor withheld when it is due." That was the only quote of his I should have worried about at 17.
---
Audrey Elisa Kerr is an author and essayist from New York. She currently resides in Connecticut.