Swimming to a Happy Father's Day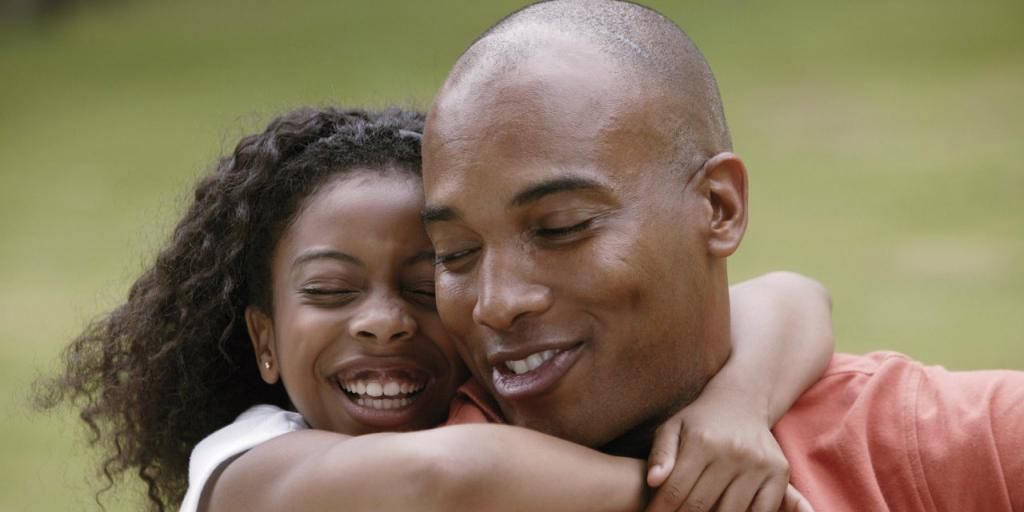 Kandi Burruss' conversation with her father on last Sunday's second episode of Kandi's Wedding was likely déjà vu for many viewers. For me, it was reminiscent of the many "wha-ha-happened" conversations I have had with my own father. During the scene, the once estranged father and daughter discussed what may or may not have occurred during Kandi's childhood. Titus Burros, now a pastor, explained there were "undercurrents" of the situation Kandi could not understand.
As Father's Day passes, I have wondered about what the means for women who embrace the label "daddyless daughters." Women of all hues make up this group of survivors who swam as best as they could during childhood, trying not to drown in the undercurrents of family and parental drama.
Last year, I joined millions of viewers as we watched Oprah Winfrey and Iyanla Vanzant conduct a Lifeclass on how women were affected by the absence of their fathers. As I watched, I realized there was not enough airtime to truly explore the complexities of this topic.
This year, my 40th birthday fell on Memorial Day. The following day, I sat with my teenage parents as they re-enacted "the family meeting" held 40-plus years ago. My father's family was summoned after my maternal grandmother learned her 14-year-old daughter had conceived a baby with a 16-year-old from another hood.
While I had heard versions of the story before, it was now hilarious as my parents narrated the meeting held when I was in the womb. These days, similar yet calmer scenes appear on shows like 16 & Pregnant. I often whisper a prayer when I hear the young women proclaim "he's going to be here for a baby."
After the "the family meeting" and my birth, my father graduated from high school and enlisted in the military. Two years later, my mother completed high school and entered college. My mother's parents and siblings cared for me as both teenagers tried to get their lives together.
While I cannot say I was a child abandoned by my father, I can empathize with women who find Father's Day a challenging holiday to acknowledge. For many, this coming Sunday will not be a day of celebration. Rather, it may be a reminder that "daddy gone," as articulated by Iyanla Vanzant during the Lifeclass.
Growing up, daddy wasn't completely gone, but he wasn't always completely there. Burruss shed tears remembering the times when her father had not contact with her. From dating to control issues in nonromantic relationships, many of us have spent many years trying to navigate through our own "daddy issues."
Although some women may never know their father, my concern is for those who may get opportunities for reconciliation but choose estrangement. Not all relationships may be imminently redeemable, but many can get to the place of a Happy Father's Day.
Maturity, prayer, and time factored into our healing. The transformative work of the Holy Spirit fueled my heart change as well as my mother's consistent interference. After my father didn't escort me for my debutante ball, our relationship was once again strained. Thankfully there were other men in my village, and my mother's brother presented me to society. It was my mother who provided details about my high school graduation and other activities I deemed he was not worthy to attend. Many would not know a cruise we took after my graduation from graduate school in 2012 wasn't just a time to celebrate an academic achievement, rather but it celebrated the healing of our relationship.
Around age 35, I realized I had to stop punishing my father. I began to think: "So, at 35 my father had an 18-year-old heading to college; a wife; other children, and other people depending on him. Oh, okay. That likely could have been a difficult time for him." When I began to consider the many undercurrents through the lens of adulthood, grace began to cover a multitude of "parenting sins."
Depending on the daughter, punishment may take different forms. In the end, we end up punishing ourselves and subsequently others who attempt to love us.
The journey has been long and tedious. Our past interactions filled with teenage venom and a barrage of "you haven't done" charges remind me that grace is continually at work in both of our lives. These days, our conversations are filled with laughter, discussions about my ministry work, and the exchange of recipes. We both love to experiment with homemade sauces and cooking methods.
While there can still be glitches in our communication, I now respectfully use my words. As I look at my baby picture with the 17-year-old with cornrows, I see a young man who was likely afraid and unaware of the undercurrents to come. He may have panicked a time of two, but we have both survived and can now celebrate a Happy Father's Day on shore.
---
The Rev. Arlecia D. Simmons, Ph.D., M.Div., is the Chief Encourager of Look and Live Ministries, Inc. She studies the intersection of media and religion and blogs at www.looknlive.com