mental health
stress
strong black woman myth
Breakdown: The StrongBlackWoman in Crisis
8/05/2014
by Chanequa Walker-Barnes Nobody saw the breakdown coming. And still fewer recognized it as a breakdown when it occurred. Veronica was ...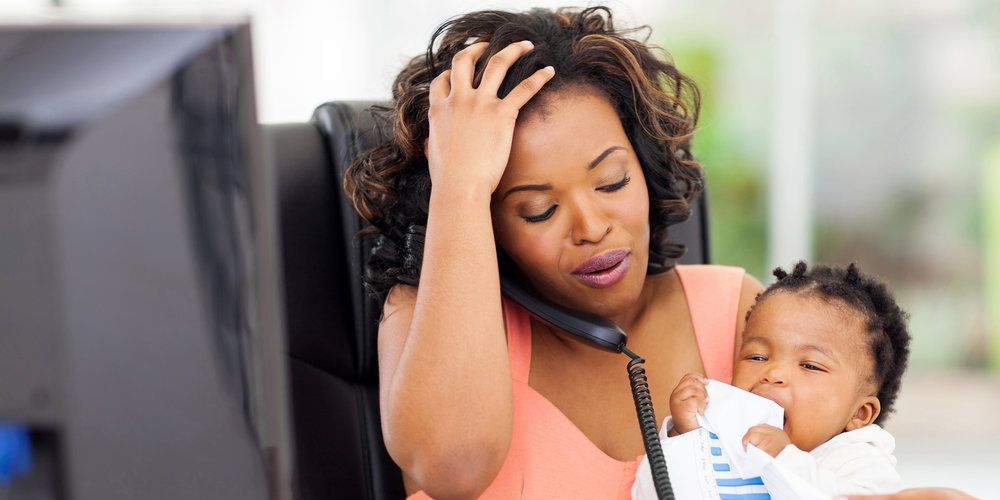 by Chanequa Walker-Barnes
Nobody saw the breakdown coming. And still fewer recognized it as a breakdown when it occurred. Veronica was the epitome of the StrongBlackWoman. So when in the span of one week, her mother died and her son was diagnosed with prostate cancer, she did what StrongBlackWomen do. She stuffed her feelings of anxiety and anger deep inside, kept a smile on her face, and doubled down on her commitments to work, family, and church. No one ever saw her cry. And when they asked how she was doing, she vomited a litany of Biblical scriptures and Christian platitudes: "I am blessed and highly favored indeed. I am standing on the promises of God. For they that wait on the Lord shall not weary, but they shall rise up like eagles. The Lord has been good to me and I know he won't give me anything more than I can bear. So I know that everything's going to be alright!"
In her church, she was an icon of faith. "Sister Veronica is so strong!," the people said. "Even with everything that's going on with her, she hasn't missed a beat. You can always count on her to be here." Younger women sighed and wished that they could be more like her. Few questioned exactly what Veronica's "strength" meant, least of all Veronica herself. Even when she passed out in the middle of the evening revival service, she kept pushing forward. She refused to go to the hospital. And the next morning, she kept on with her planned agenda for the day as if nothing had happened. Until the dizzy spells and weakness became more than she could bear and she found herself in the emergency room.
Without realizing it, Veronica had been caught in the vicious stress-health cycle of the StrongBlackWoman. Rather than giving herself the space to feel and express her emotional distress, she repressed it. She distracted herself by directing her energies to taking care of the needs of other people and institutions. She crammed even more activity into an already hectic schedule. And she devoted even less time to engaging in self-care behaviors. She had already had difficulty getting an exercise routine going. When cries set in, she began skipping meals and when she did eat, she relied on fast food and sweets. She sacrificed her sleep and leisure time to keep up with all that she had going on. Together, it was a perfect recipe for breakdown. With no outlet, her emotional distress became embodied in physical form. Her existing health problems were exacerbated and she developed new ones: headaches, dizzy spells, fatigue, fainting.
In the face of the myth of strength and its unrelenting demand for composure in the face of crisis, Black women's bodies tell the stories that they may be incapable of telling. While the myth encourages Black women to ignore, suppress, or conceal symptoms of physical and mental distress, their bodies become the repositories of the stresses and strains resulting from their personification of the StrongBlackWoman. A StrongBlackWoman usually has an extraordinary capacity for "walking with broken feet," often unaware that she is in pain. The symptoms of some physical and mental health disorders have become so widespread among Black women that they are no longer noticed or viewed as pathological. Instead, they are viewed as normative. At least until the breakdown occurs.
Unfortunately, for many StrongBlackWomen, reaching the point of emotional and/or physical breakdown does not necessarily lead them to question or break away from the imperative of strength. Among Black women, strength is considered a hallmark of racial-gender authenticity as well as faith. So when women who personify the StrongBlackWoman experience breakdown, they usually do not see it as an indication of the injustice or lack of fit of the role. Instead, they interpret it as a sign of their insufficiency in adhering to the role. Their response, then, is often to "double down" on personification – to work even harder at repressing their needs and emotions, caring for others, and taking on additional responsibilities.
It is no wonder then that Black women in the United States are facing a virulent health crisis, with epidemic rates of conditions such as obesity, diabetes, hypertension, HIV/AIDS, and higher mortality rates for nearly every major cause of death than any other racial/gender group in the country. Burdened by an inordinate weight of responsibility, Black women in America are committing assisted suicide with the help of the family and social structures that condition them into performing the myth of the StrongBlackWoman.
If Black women are to be made whole, then they must be liberated from the stranglehold of the StrongBlackWoman. They need to stop breaking down and break free!
Photo Credit: Shutterstock
---
Dr. Chanequa Walker-Barnes is the author of
Too Heavy a Yoke: Black Women and the Burden of Strength
. A theologian and psychologist, she teaches pastoral care and counseling at Mercer University. You can follow her on Twitter @
drchanequa
.