Actress Danièle Watts Wrongfully Detained After Being Mistaken for a Sex Worker
Actress Danièle Watts was wrongfully detained under the suspicion that she was a prostitute after being affectionate with her boyfriend in Studio City, California.
Many will remember Danièle Watts from her role as "Coco" in Quentin Tarantino's 'Django Unchained' or her current role as Martin Lawrence's daughter in 'Partners.'
Watts was dressed in a t-shirt, shorts, and tennis shoes when she was approached by police who believed her to be a prostitute. When she refused to show the ID, she was then handcuffed by multiple officers and detained.
She told the entire story on her
Facebook page
:
Today I was handcuffed and detained by 2 police officers from the Studio City Police Department after refusing to agree that I had done something wrong by showing affection, fully clothed, in a public place.

When the officer arrived, I was standing on the sidewalk by a tree. I was talking to my father on my cell phone. I knew that I had done nothing wrong, that I wasn't harming anyone, so I walked away.

A few minutes later, I was still talking to my dad when 2 different police officers accosted me and forced me into handcuffs.

As I was sitting in the back of the police car, I remembered the countless times my father came home frustrated or humiliated by the cops when he had done nothing wrong. I felt his shame, his anger, and my own feelings of frustration for existing in a world where I have allowed myself to believe that "authority figures" could control my BEING… my ability to BE!!!!!!!

I was sitting in that back of this cop car, filled with adrenaline, my wrist bleeding in pain, and it occurred to me, that even there, I STILL HAD POWER OVER MY OWN SPIRIT.

Those cops could not stop me from expressing myself. They could not stop the cathartic tears and rage from flowing out of me. They could not force me to feel bad about myself. Yes, they had control over my physical body, but not my emotions. My feelings. My spirit was, and still is FREE.

I will continue to look any "authority figure" in the eye without fear. NO POLICE OFFICER OR GOVERNMENT OFFICIAL IS MORE POWERFUL THAN ME. WE ARE EQUALS. I KNOW THAT I WILL ALWAYS BE FREE BECAUSE THAT IS THE NATURE OF MY SPIRIT.

And moreover, I deeply enjoyed connecting with the cops who detained me. I allowed myself to be honest about my anger, frustration, and rage as tears flowed from my eyes. The tears I cry for a country that calls itself "the land of the free and the home of the brave" and yet detains people for claiming that very right.

Today I exist with courage, knowing that I am blessed to have experienced what I did today. All of those feelings, no matter how uncomfortable. These feelings are what builds my internal strength, my ability to grow through WHATEVER may happen to me.

That internal knowing is what guides me in this world. Not the law, not fear, not mistrust of government or cops or anything else.

In this moment there is a still small voice whispering to me. It says: You are love. You are free. You are pure.
Danièle's boyfriend, Brian Lucas, who is white, shared these photos on his
Facebook page
. He says he believes they were targeted because they are an interracial couple.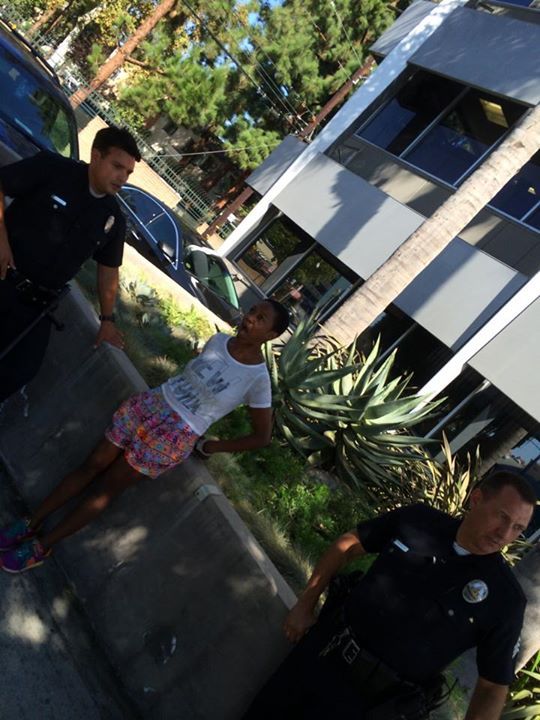 He also told his version of events.
Today, Daniele Watts & I were accosted by police officers after showing our affection publicly.

From the questions that he asked me as D was already on her phone with her dad, I could tell that whoever called on us (including the officers), saw a tatted RAWKer white boy and a hot bootie shorted black girl and thought we were a HO (prostitute) & a TRICK (client).

This is something that happened to her and her father when she was 16. What an assumption to make!!!

Because of my past experience with the law, I gave him my ID knowing we did nothing wrong and when they asked D for hers, she refused to give it because they had no right to do so.

So they handcuffed her and threw her roughly into the back of the cop car until they could figure out who she was. In the process of handcuffing her, they cut her wrist, which was truly NOT COOL!!!

Our freedom isn't freedom folks, when people can abuse others with no reason or evidence at all just because they "think" they have been given the power by people that are ONLY equal to us.

Of course, they had to let her go eventually cuz we weren't a threat to anyone.

They weren't expecting D to be so intelligent and outspoken, and left truly feeling the fear vibration finding out that they had just fucked with 2 celebrities (Celebrated People).

WE ALL HAVE THE SAME POWER INDIVIDUALLY IN THIS WORLD, AND I'M GLAD WE'RE ALL TAKING IT BACK ONE BEING AT A TIME!
Watts alleges that the officer her placed her in handcuffs so tight that they broke the skin on her wrists.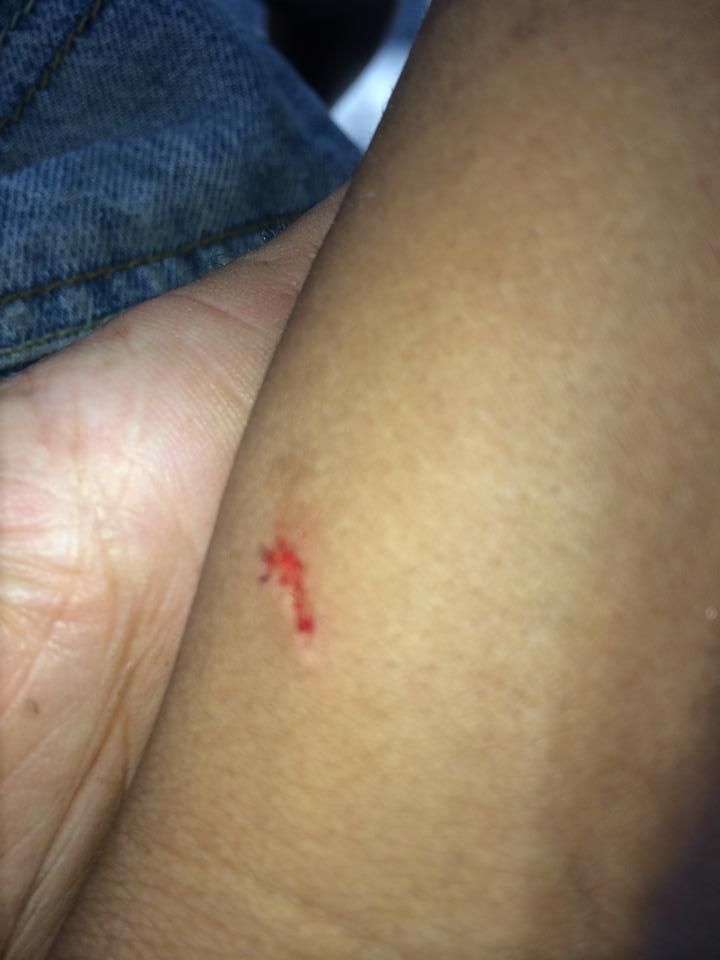 The two were eventually let go, but they were clearly angry and hurt by the experience.
Update: We previously referred to Brian Lucas as Watts' husband. He is, in fact, her boyfriend.
---
Kimberly Foster is the founder and editor of For Harriet. Email or
Follow @KimberlyNFoster