Enough: Breaking the Silence of Domestic Violence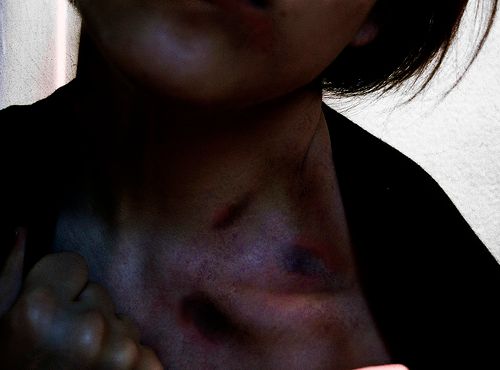 Lisa
: He hits me.

Victoria
: When? 

Lisa
: Often. 

Victoria
: Well, you must stop doing what you're doing to make him angry.

Lisa
: What? 

Victoria
: Women sometimes have to deal with things to be comfortable.
This brief yet poignant dialogue between mother and daughter sent chills down my spine. Tyler Perry (Madea's Family Reunion) hit the nail on the head in exposing a generational curse that afflicts many families. Even more mind blowing was that after years of denial, I could relate, this curse had become mine.
While October is National Breast Cancer Month, it is also Domestic Violence Awareness Month. Domestic Violence touches us all, regardless of race, socioeconomic status, or gender. However, it disproportionately affects African American women. Did you know that African-American women experience intimate partner violence at rates 35% higher than their White counterparts and 2.5 times the rate of men and other races? These are only reported cases and the prevalence could be 10% higher as there is no national data base that tracks these statistics. Even more daunting is that not only are African American women less likely to prosecute their abusers, but are also less likely to leave contributing to more than 1/3 of homicides by intimate partners.
I remember as a young girl being the one who quickly shunned and ridiculed other girls that were suffering domestic violence. "I wish a nigga would put his hands on me. She is crazy for staying with him." Were just a few things I said not knowing that those shoes I would one day wear and those very words I would one day swallow... hard. I was 16 when the first violent hand came against me. When questioned about the busted lip, I lied to my mother. The lies continued throughout high school and spilled over into my college career. I remember staying in, hiding out, and missing school and Sorority functions until the bruises healed. This secret I kept from the world, because in my mind he would change while excusing his abuse because of an absent father. The irony in my story is that although I never witnessed domestic violence in my home against my mother, this very thing ripped her out of lives in May of 2000. Seven bullets from a 22 caliber fired by a long time acquaintance struck her down and sadly enough still didn't allow me the courage to leave.
We as African American women can be painfully judgmental. I can recall just as recent as the Rihanna domestic violence case where so many women blamed her for the violence. There were round table discussions on what she should not have done. I hurt for her. I hurt even more for the young women, who in the same situation could have been helped had she spoken out and used her platform to shed light on domestic violence among youth. I hurt for the women in the midst of these conversations who were suffering from abuse but were too ashamed to speak out and ask for help. The stigma of domestic violence is powerful in that it undermines all that being a black women embodies; strength, protector, provider, nurturer and so forth.
I escaped my nightmare in 2004. I look over all the times I could have been dead and am thankful for God's promise for my life, the silent prayers, and my guardian Angel. Domestic violence chips away at the core of a person and can go either of two ways; life or death. Although the signs are not always evident, remember that love does not hurt in any fashion or form and loving him more won't change his behavior. Sisters be slow to judge and quick to listen to those that are struggling with this societal issue and I don't care if you've been down the road 50 times with a family member or friend, your giving up only drives her into further isolation and deeper harm.
A survivor is defined as one who perseveres "after". I am a SURVIVOR!
Signs that you are in an abusive relationship from
www.helpguide.org
Do you:
• feel afraid of your partner much of the time?
• avoid certain topics out of fear of angering your partner?
• feel that you can't do anything right for your partner?
• believe that you deserve to be hurt or mistreated?
• wonder if you're the one who is crazy?
• feel emotionally numb or helpless?
Does your partner:
• humiliate or yell at you?
• criticize you and put you down?
• treat you so badly that you're embarrassed for your friends or family to see?
• ignore or put down your opinions or accomplishments?
• blame you for his own abusive behavior?
• see you as property or a sex object, rather than as a person?
• act excessively jealous and possessive?
• control where you go or what you do?
• keep you from seeing your friends or family?
• limit your access to money, the phone, or the car?
• constantly check up on you?
• have a bad and unpredictable temper?
• hurt you, or threaten to hurt or kill you?
• threaten to take your children away or harm them?
• threaten to commit suicide if you leave?
• force you to have sex?
Skyy Banks is an author and freelance writer who is a native of Arkansas and now calls Atlanta, GA her home. Banks enjoys reading, writing, and traveling. Banks uses her writing as a platform to encourage her readers to explore taboo subjects and engage in dialogue to find solutions. She is a self-motivated woman and knows the world is waiting for her greatness. "The only limits are the ones I place upon myself; I don't have any."