UPDATED: Reporter Jawn Murray Calls Black Women "Militant" and "Nappy-Headed"
Who's looking out for Black women? Who comes to our defense when we are publicly demeaned?
On Wednesday, October 20, Jawn Murray, an entertainment reporter for AOL's Black Voices and contributor to the Tom Joyner Morning Show, sent out this tweet:
Certainly, Mr. Murray could have expressed his enthusiasm for Tyler Perry's latest work without insulting Black women or natural hair. The language was unnecessarily offensive. And when Black women pushed back, Murray followed up with this: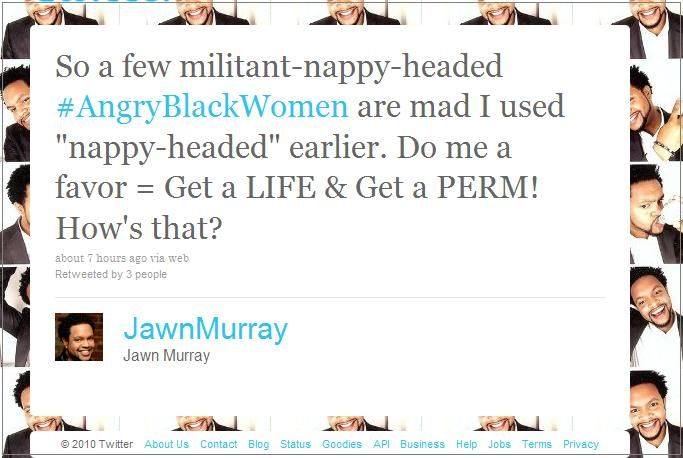 In light of Jawn Murray's employment by media outlets which claim to cater to the needs and interests of African-Americans, his statements are unacceptable. That is why For Harriet is circulating a petition to demand an apology from Mr. Murray.
Mr. Murray made a mistake. An apology is not too much to ask for.
While we attend to the greater ills that plague Black women like the
deadliest breast cancers
and
domestic violence
, we cannot continue to ignore the constant denigration that we receive.
UPDATE: JAWN MURRAY HAS ISSUED AN APOLOGY.
Tariq Muhammad of AOL Black Voices has issued an official statement. View it here.
The Tom Joyner Morning Show has yet to respond to our request for comment. Contact Reach Media at (972) 789-1058 or Maiya Hollie at
maiya.hollie@reachmediainc.com