Ask Coach Mari: Should I Leave My Man?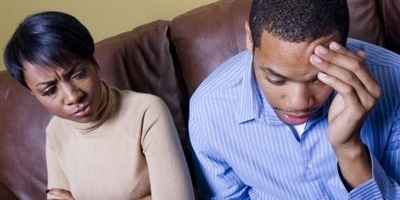 Dear Coach Mari:
Yesterday, me and my boyfriend, 28, had an argument leading to a physical fight. We have fought from time to time in the past, but it seems like it is becoming more frequent. I know you will probably say get rid of him but I know that I provoke a lot of the fights by criticizing him because he doesn't have a job and he is not contributing to our household. I'm the one who works and my job doesn't pay very much so we do without a whole lot of things. He takes care of our children while I'm working. Plus, he has now accused me of not being faithful and believing our six month old daughter is not his. My son, three years old, loves his daddy and they have a beautiful relationship. I want him to grow up with a man in the house. I come from a household where everybody yelled and screamed about everything, so I'm used to it, but Mari, I don't want to continue with this. I do love this man, but I want us to be like we were when we first met.
Signed: Uncertain
~~~~~~~~~~~~~~~~~~~~~~~~~~
Dear Uncertain:
Run, do not walk, to your mirror and hug yourself. Look yourself straight in the eyes and tell yourself how beautiful, wonderful and worthwhile you are. Keep doing this, day after day, if necessary until you honestly begin to appreciate who you are and what you bring to this world. Celebrate you, and ask yourself why would you allow anybody to treat you with anything less than respect and dignity.
Food for thought: You're supporting a grown, 28 year old boy who should be working to support you and your two children. In no way, shape or form is he a man. Men do not slap women who criticize them for not supporting their families. Men do not live off women. Men do not lay back and babysit children while the woman goes out and works her behind off in snow, sleet and rain. A real man does everything to provide for his own, working how ever many jobs it takes.
More food for thought: Because you grew up in an atmosphere where anger was the accepted norm, you've become almost immune to it. Almost. You're noticing that his behavior is escalating, and I believe you're also becoming fearful, although you didn't specifically say so. When you stay in this situation and allow him to do this, you unconsciously give your consent to this behavior. You become an enabler and share in the responsibility for any consequences that follow. Consider this: How far will he go the next time? When do you get knocked unconscious or worse? What example is he setting for a three year old child growing up in a house-hold where this dysfunctional nonsense is normal? And if he stays, what effect will this have on your daughter, as she deals with the toxicity that comes from a father who doesn't accept her as his own?
Your choices are quite simple: a) Stay and accept the consequences for what he might do. b) Take a good, long break from this relationship. Actively seek out family, friends, acquaintances and agencies, anything or anyone that can provide you with immediate assistance; c) actively seek counseling, therapy or coaching to get control of this situation before it spirals completely out of control. I would say, d) ask him to leave, but I somehow doubt he will do that willingly.
One last thought: You have a dream for a relationship that sparkles and glitters and glows and perhaps that's what you had when you first met. Right now, your dream is increasingly becoming a nightmare and your thoughts should be geared more towards safety than wanting things to be like they were.
You do want the best for yourself and your family. However, until you learn to love you and want only the best for yourself and your children, your "Happy Ending" isn't in sight.
Coach Mari
Mari Lyles is one of the metropolitan D.C.'s area's leading Certified Life/ Relationship coaches. A graduate of two prestigious schools, Institute for Professional Excellence in Coaching (IPEC) and the international Relationship Coaching Institute (RCI), Mari turned fifteen years of counseling/mentoring talents into a satisfying career coaching women on life and dating and mating issues, based upon RCI's patented relationship program, "Conscious Dating," wherein women take power over their romantic lives.

Got a question for Mari to answer? Send them to features@forharriet.com