Black Women Should Come Out of Hiding In Honor of Viola Davis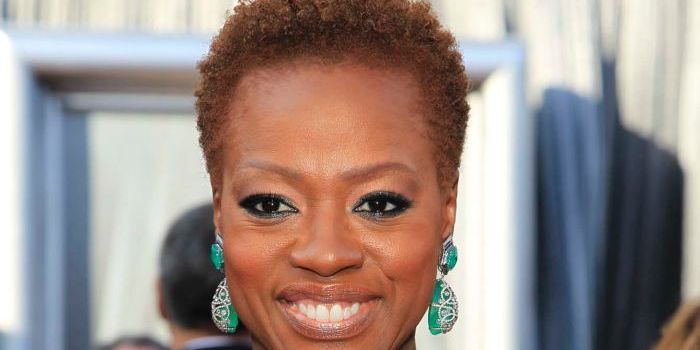 I knew this was going to happen. As soon as I got word that Viola Davis, Goddess of the Universe, walked the Academy Awards red carpet without her signature wig, I was positive we would see
article
after
article
about the politics of her choice. And we have.
That's not necessarily a bad thing. The actress made a bold decision. A decision, that I couldn't be prouder of because of what it means to so many Black women.
Viola's appearance was an important moment for us. I missed the red carpet live, but I've taken several moments since Sunday to soak in the gorgeousness of it all: her chocolate brown afro, luminescent complexion and remarkable stature. I see myself in her, and I feel powerful.
Contrast that emotion with the hopelessness I experienced as a little girl navigating the world without similar models. I needed her then.
Read:
UnPretty: My Personal Battle With Vanity and Insecurity
This has been a
long, contentious awards season
for black folks, but the unignorable presence of outspoken, brilliant Black women at these traditionally monochromatic awards shows has made the infighting worth it. Witnessing tremendous talents like Viola Davis and her co-star Octavia Spencer celebrated provided much needed respite from the usual barrage of attacks.
African American women must seize this moment. Embrace fearlessness by shedding unnecessary accoutrements if only for a day. I've just begun to regularly forego the heels and the makeup. It was just as difficult as I expected but more rewarding than I imagined.
Our personal guides for aesthetic liberation need not be famous women. Do you have a Viola Davis in your own life? Maybe you are someone's Viola Davis.
Groups whose identities have been stigmatized partake in Coming Out Days to celebrate their true selves. The LGBT community
has one
; as do
feminists
. Pick your own Coming Out Day to leave the house without all the stuff--I'm talking external and internal--you think you need.
Perhaps we can prevent another woman's
self-loathing spiel
like the one Wendy Williams gave on her show following the Oscars.
Viola's hair belongs to her. She owes us nothing, but no doubt she paid it forward on Sunday. Let us follow her lead and do the same.
Kimberly Foster is the Editor and Publisher of For Harriet. Email her at Kimberly@ForHarriet.com with comments or find her on Twitter.