Black Girls Blogging: Tami Winfrey Harris of What Tami Said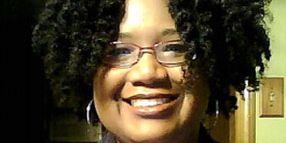 Tami Winfrey Harris uses her blog,
What Tami Said
, as a vehicle to share her voice on a variety of topics. With her thoughtful, bold perspective, Tami provides a much needed corrective to dominant discourses about Women of Color. We love her because meet ever holds back. With each post, she proves writing about your passion is the key to blogging success.
When did you start your blog, "What Tami Says," and what purpose did you hope it would serve on the internet?
What Tami Said started as a way for me to flex my creative muscles, as well as tackle issues that are important to me. Writing has always been my passion and I have a journalism background. But a few years ago, I found that my daily life wasn't giving me the outlet for creativity that I needed. At the same time, it bothered me that voices like mine--voices of progressive black women--were essentially silenced in the media. Then I stumbled upon Gina McCauley's blog, What About Our Daughters, and I was fascinated by both her voice and activism. I was inspired to begin my own blog. At the time, I'm not sure I had any belief that What Tami Said would serve a purpose for anyone but myself. I never stop being surprised and gratified when I hear that my little corner of the web has had some impact on a reader.
A lot of blogs tend to shift in direction from their original style, yet yours has remained consistent. What do you attribute this consistency to?
What Tami Said really reflects the things that interest me and that I care about. Race, gender, politics, pop culture, some books and music--those are simply my interests, and blogging has allowed me to deepen my understanding and knowledge in those areas, which I really appreciate. I suppose my blog has remained consistent, because my interests have remained consistent.
What would you say is the biggest lesson you've learned about yourself, and black women from blogging?
Black women are awesome. I always knew this, of course. But screw all those media messages. Really. Everyday, through my work on the web, I meet another sister doing something amazing. And not just black women. There are so many women doing great things that go unrecognized both offline, but online, too. For instance, the media isn't giving enough attention to sexist attacks on reproductive freedom in this country--attacks that will hurt marginalized women the most--but there are several women online who are just dogged about shedding light on what we have to lose. That's real work. That's real, important work. And it's being done, in most cases, by women who aren't making money for it. They're using their writing talent and online platforms to report, analyze, make a statement and move people. How can you not admire that? It blows me away.
The biggest benefit of my blogging has been developing friendships with some really smart and cool people--women and men.
Being a black woman who is outspoken on social, political, and economic issues definitely comes with a lot of critique and even attacks. How do you deal with this downside of blogging?
*knocks wood* So far, I have been spared the attacks often faced by outspoken women, especially online. Not that my blog doesn't attract a troll or two, from time to time, but I think What Tami Said and the other spaces where I contribute tend to be populated by progressive-minded people. When I have written for outlets with readers not well versed in, say, anti-racism, it has been harder. You have to state your case and have confidence in your stance, but also know that some people can't be reached. Some people are resistant to acknowledging their own privilege. Others aren't ready. I'm always down for a PRODUCTIVE debate, but I won't allow myself or my readers to be abused, and I only have so much patience for folks who want to run up in a place just to play the derailing contrarian.
How do you think your blog has helped support the community of black women online?
I try to be responsive to other bloggers, answering their requests and questions. I try to give a signal boost, through my blog, social media and word of mouth, to black women bloggers doing good work. And I also try to share connections and opportunities. I think that last bit is crucial. A lot of ink has been spilled over the fact that it is tougher for black bloggers to be noticed and tapped for mainstream opportunities. It's true. So, when I get a little shine, I try to throw a little someone else's way. When a cyber sister gets a book deal or an article published, I try to promote it.
How do you see your writing and blog evolving in the next 3-5 years?
I've been lucky to be able to contribute to other spaces like Racialicious, the Guardian, Clutch magazine and Ms. magazine. Over the coming years, I hope to have more opportunities to write, beyond What Tami Said, on and offline. I am currently working on a book that I hope will be a corrective to the sexist and racist current conversation about black women and marriage. It will include first-person narratives from diverse women, including women who don't wish to marry, women in interracial relationships and queer women--all of whom are usually left out of the "black marriage crisis discussion." What Tami Said will continue to be the centerpiece of my work--the place where I get to be myself and let my metaphorical hair down.
What advice would you give to women who are new to blogging?
Write about what moves you. It will bring more passion to your work. Readers will be more engaged if you are engaged. Also, be a part of the blogging community. Get to know other bloggers. Contribute to other spaces. Give back. It will be rewarding for your blog and also personally. Lastly, harness the power of social media.