Fordham University and Me: Combating Hate Crimes on College Campuses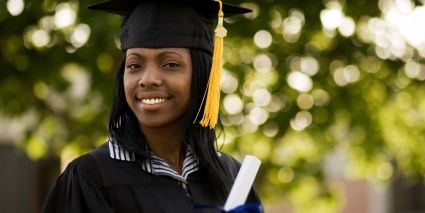 I graduated a semester early from Fordham University in December 2010. Contrary to popular belief, I left school early because I craved real world experiences -- not because I disliked college life, and Fordham in particular. I have never once regretted my choice to attend the "Catholic Ivy League". My three and a half years of undergrad there were some of the happiest and most important years of my life thus far. Fordham is where I decided what my path in life would be, where I had my notions challenged and altered, and where I was introduced to some of my mentors and closest friends.
I never thought that my views on the University would change (besides those regarding mounting tuition prices) drastically until a very disturbing story broke last month. In February, a black Fordham senior,
Melissa Wright
retired to her dorm only to find the word "nigger" sprawled across her door in black marker. Sometime later, the word appeared once again in the wall of a men's bathroom. As of the present, University officials have not taken major steps in response to these occurrences besides sending out a mass email highlighting the school's "zero tolerance" policy for bias,
claiming to have an investigation conducted by campus police, and having a scheduled meeting with the University president and student groups.
To say that I am angry and hurt at the reaction, or lack thereof, of Fordham's officials would be a major understatement. I am appalled that the very place that is supposed to foster and mentor the leaders of tomorrow is allowing such acts of hate and prejudice to breed and grow. I say "allow" because until major action is taken (i.e. full investigations with the NYPD to find who the culprit(s) is/are; having a town hall to address how to prevent and punish such acts in the future; and creating stricter University policies for all hate crimes), Fordham is just as guilty as the coward(s) who scribbled the epithet on campus.
I once heard someone say that it is not a matter of
if
a racist incident takes place on a college campus, it is simply a matter of
when
it happens. We cannot act naive or oblivious to the fact that these acts of prejudice are occurring continually on campuses all across the United States. Colleges and Universities need to do a better job of creating a safe and comfortable environment for all their students -- not just the white ones.
Current and former students and staff of Fordham University are showing solidarity in combating racism on campus by sending around an online petition denouncing the hateful acts. I ask that all who read this post aid us in this fight, by signing the petition
here
. It is my hope that with a strong and unified front we can send a message that institutions of higher learning will not serve as hotbeds for acts of discrimination.
Valerie Jean-Charles is a 23 year old community servant and writer in Brooklyn, NY. She holds a BA in Political Science from Fordham University. Follow at @Empressval to join her never-ending conversations about everything and then some.