Letting Go of Kinky Hair Anxiety
"I love your hair. I wish my hair was like yours."
Several women have said this to me over the years, and it's surprising to hear. I have very kinky coily hair which at one point I thought it was most difficult type of hair to handle. I hated getting it combed and I ran when my mom approached me with a comb. She had to tie me down with her legs to comb my hair when I was four because getting my hair done as a child was always a battle that I was determined to win. The hair ritual hurt my scalp and I refused to sit long enough to get it combed. I had to be trapped to tame my hair, and my kinky hair seemed to always be a subject of shame. So begins my negative views of the "crown of glory" on top of my head.
When I was in fourth grade, I wore long braids (Like Janet Jackson in Poetic Justice). I had a habit of tugging and pulling and playing with my braids, and a few of the extensions in the back fell out, leaving my kinky hair exposed. So, I pulled on loose strands just to feel them spring right back. It was fascinating. Different from the long, flowing locks I saw on my favorite TV shows. Different from the relaxed strands or the softer loose curls of my classmates. I thought my kinky coils were hidden under the other braids, and for a moment, I could enjoy my springy hair peacefully and privately. My private peace ended when a few of my hairs fell off and landed on my desk for my classmates to see. The girls across from me noticed the coils and whispered in each other's ears. I knew what they were saying, because they had said it to my face before. "Look at her nappy hair." The shame came rushing back.
As I got older, the shame was reinforced as people got bolder when describing my hair. When I was twelve, I went to see a new hair stylist. My mom had already given up on my kinky, coily hair, so she had my sister relax it at home when I was eight. When I went to the stylist, it had been a while since my sister had given me a relaxer, so I had quite a bit of new growth. When the stylist removed my hat and realized how nappy my hair was, her reaction was, "Whew chile!" She said this every time I went for a visit. And when she tried to comb it, she said that she had to "plow through all this", as if my hair was a patch of weeds in her tomato garden.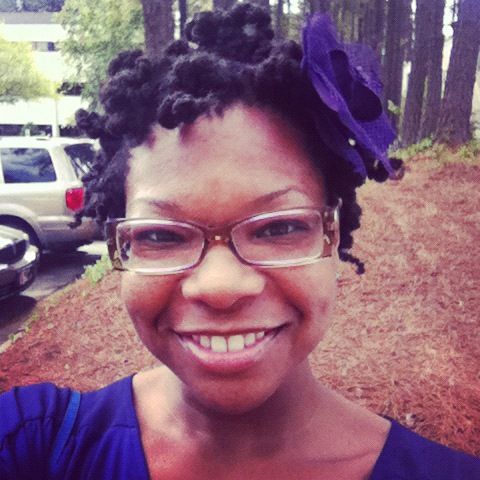 Read:
Testimony: My Natural Hair Journey
My kinky coily hair has always been a source of shame for me; physically, mentally, emotionally, and socially. I went to the salon religiously every four weeks to get the relaxer to process the shame away. But one afternoon, I was sitting on the couch with my mom examining my overly processed, thinning hair. "Momma, look at my hair," I sighed. "What happened? I've been going to the shop…" My mother simply said, "It's probably them perms. You need to just let your hair do what it wants to do." And that was it. Stripping my hair of its natural beauty and health was apparently better than allowing my hair to exist in its natural state. It was then that I stopped going to the salon for a relaxer. I no longer wanted the shame I felt to be an excuse for damaging my hair. If I didn't love my hair, who would? A few months later, I big chopped. Surprisingly, I didn't feel ashamed of my short nappy hair like I thought I would. It was just hair for me. My hair grew out a bit, and looking for something different, I styled it with comb twists. When I did that, my best friend told me that my twists were cute, but she preferred my 'fro. I was shocked. She liked it? She liked my nappy hair, which I, for so many years of my life, hated and fought.
I have now grown into loving my hair. I love its versatility and strength. Most of all, I love that it is mine. The shame, ridicule and judgment of my youth no longer have power over me. I love the versatility, strength, and beauty of my natural hair. I proudly wear a t-shirt stating that my hair is kinky, coily, curly and awesome. It still surprises me that women tell me that they wished they had my hair. I always thought the softer curl was more desirable. I have even envied women with a softer curl. But women are jealous of my hair! Who would have thought? So I tell those women, "No your hair won't look like mine, but yours is beautiful all the same."
Related:
Who Will Defend a Black Woman: Rhonda Lee and the Need to Speak Out
Split Ends: Black Women, Money, and the Cost of Hair Care
Nappy Hair Time: Not Just for Mommies and Daughters
---
Emma Akpan is an aspiring writer and blogger living in Raleigh, NC. She is an activist working for a coalition of advocacy and voter engagement organizations and a minister in the A.M.E. church. You can follow her on twitter at
twitter.com/emmanisma
and check out her new blog on feminism and theology at
emmanism.com
.