Spring Clean Your Thoughts and Gain a More Meaningful Life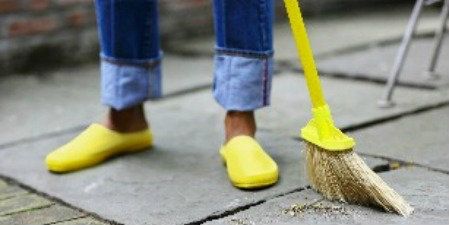 Even though it may not feel like it as I'm writing this article, here on the East Coast, Spring is right around the corner. As the seasons shift many of us will start to prepare our wardrobes and even our homes for the climate change that comes with spring. We'll move the heavy clothing to storage and start to transition our wardrobe to reflect the warmer temperatures that can also serve to uplift our spirits.
I enjoy seasonal shifts because they serve as a time to examine your life and de-clutter. I'm also an advocate of doing something many people don't think about, doing a little "spring cleaning" in your thought life. Shift your thinking and focus on expanding the truth of who you really are. One of the tools I use to help with spring cleaning my thoughts, is "The 10 Agreements."
The 10 agreements are simple powerful affirmative statements centered on the principles of love, acceptance and service. They are designed to start working in your life right now.
It's important for us to set aside a designated time where we specifically tend to our self growth and personal development. You might do this with a workshop, reading a book or creating a daily practice of meditation or reading empowering statements to help you gain insight and expand your self-awareness.
"If you're too busy or too tired to advance your personal development, don't blame someone else for the negative outcomes in your life." ~ Mindset Mojo
We all know this is truth but we don't often take time to invest in doing those things that will provide us with the most significant benefits.
Maybe you've been feeling like you're in your life, but you're more like an afterthought. You're really not as present as you'd like to be. Kind of like you're on the sidelines of your own life and there's no coach anywhere in sight. Well by taking the right steps, you can become your own coach and reap significant benefits from putting in a minimal amount of time training your mindset to be the healthiest it can be.
The 10 Agreements will help you with this process. Here's how it works. Below are the 10 Agreements. I recommend that you print them out and commit to affirming one agreement a day for the next ten days. Focus on reflecting on the truth in the agreement for a maximum of two to five minutes each morning. Once you complete the cycle you can opt to keep repeating it for as long as you'd like.
As you affirm the agreements you will experience subtle mind shifts that will affect your thinking and your choices resulting in a meaningful impact on the quality of your life and how you view yourself. The way you approach your life will change and you will find that you are less afraid to experience your life deeply and fully. Enjoy the journey!
The 10 Agreements:
#1 I agree to love myself and take my self-growth seriously as I develop to my fullest potential.
Tweet This
#2 I agree to help others in their quest to live a life of meaning, fulfillment and joy.
Tweet This
#3 I agree to remember that there is no perfection, only process. I live in the now.
Tweet This
#4 I agree to remember to laugh often because everything isn't as serious as I make it out to be.
Tweet This
#5 I agree to stop self-judgment and replace it with self assessment.
Tweet This
#6 I agree to share my gifts and talents with everyone I meet.
Tweet This
#7 I agree to never apologize for or bad mouth: who I am, how I'm created, or how I think.
Tweet This
#8 I agree to admit to what I don't know or understand and learn it only if necessary.
Tweet This
#9 I agree to remember that true success is found in synergy with others.
Tweet This
#10 I agree to express the courage necessary to make a positive difference on the planet.
Tweet This
Related:
Cleaning Out My Closet: Letting Go to Make Room for Better Things
Diary of An Accidental Housewife
How to Use Gratitude to Bust-a-New Attitude!
---
Creativity Life Coach,
Denise J. Hart
, known as The Motivated Mindset Coach, is committed to helping women KICK fear to the curb and Rock their Mindset Mojo 24/7! She's the author of the forthcoming book, "Your Daily Mindset Mojo - insightful messages from the heart helping women experience more meaning, fulfillment & joy!" Receive your own free daily Mindset Mojo Messages at
http://www.365daysofmindsetmojo.com