Ruby Dee: Legendary Actress and Activist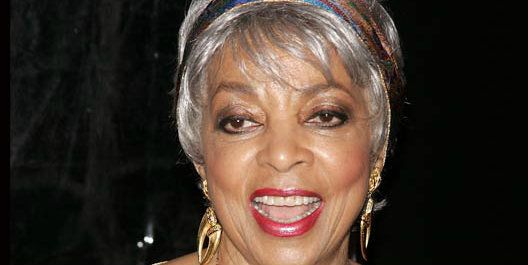 The great Ruby Dee has always been one of those ageless actresses whose presence, on and off the screen, never seems to disappoint or waver in grace and class. Time, like it has for some, has not damaged her superb multifaceted abilities, but rather magnified them to create an even larger circle of humility for anyone who wishes to learn life's truest secrets to happiness and success (read: not the Hollywood superficial glare, but the clear vision of hard work, persistence and most importantly, valor).
"The kind of beauty I want most is the hard-to-get kind that comes from within—strength, courage, dignity."-Ruby Dee
Born in 1924 in Cleveland, Ohio, Ruby Ann Wallace, one of four children of the late Marshall and Emma Wallace, was raised in New York City and taught to enjoy the creative arts of English and poetry. Nurtured at an early age in the power of words and expression, Dee went on to graduate from one of the highest rated high schools in the city, Hunter High School, to later enrolling in undergraduate studies at Hunter College. At Hunter she continued to cultivate her artistic side by further pursuing acting and later joining the
American Negro Theater (ANT)
. It was during her time with ANT that she not only adopted the stage name "Ruby Dee," but landed her first major Broadway title role in
Anna Lucasta
. That same year she met her husband, the famous Ossie Davis, while performing in the production of,
Jeb
.
Ruby Dee's career as a talented and gifted actress continued to gain wide success through her roles in such hit plays as Lorraine Hansberry's,
A Raisin in the Sun
, Ossie Davis',
Purlie Victorious
, and several major roles at the
American Shakespeare Festival
in which she was also the first African American woman to hold such key title roles.
"Classism and greed are making insignificant all the other kinds of isms; The greatest gift is not being afraid to question." –Ruby Dee
As an accomplished actress, devoted companion, and nurturing mother, Ruby Dee (and her husband Ossie Davis), led their children, (and other's), by example by not only engaging in social ventures that promoted African American culture such as With Ossie and Ruby, but also in several Civil Rights organizations such as NAACP, Student Nonviolent Coordinating Committee (SNCC), Southern Christian Leadership Conference (SCLC) and the Congress of Racial Equality (CORE).
Both Dee and Davis became well-known forces of activism, unafraid to question the morality and actions of their government and of the people of the United States. The appeared in numerous marches and protests for racial equality and became friends with both Malcolm X and Martin Luther King, Jr. in an effort to understand and support both leaders of racial justice for the African American community.
Throughout her lifetime, a fruitful career that has spanned for more than fifty years, Ruby Dee's extraordinary abilities has garnered her over one-hundred title roles in film, radio and television. She has received more than 30 awards and nominations, co-authored several books, written several plays and continues to be not just a Hollywood legend, but a formidable trailblazer for all women of color.
List of Sources:
What do you think about legendary actress and activist Ruby Dee?
"There are very few African American women I consider role models outside of my Mom. But Ruby Dee is definitely one of them. She is the ultimate role model for those in our generation and in our parent's generation. I wish more of the generation coming up behind us knew more about her. She was so active in the Civil Rights movement as well as very vocal regarding different political issues. On top of all of that she was married to the same man for almost 60 years!! That says a lot about her." (Krashina, H., AL)

"To be honest, I did not know much about Ruby Dee. At first, I didn't recognize the name. Once I googled her, I recognized her from some of her movie roles. I just learned of her and her husband's work as activists." (Pascale L., IL)

"Ruby Dee has molded the template of the modern Renaissance Woman who was progressive in both her professional and personal lives. Her marriage to Ossie Davis only solidified her stance as the successful, modern working woman who was able to have it all. Considering the fate for most in Hollywood, I admire her ability to not only successfully juggle a celebrity marriage and career, but to use these as agents to affect social change." (Chrystal, CP., MI)

"Ruby Dee was known for being an actress when roles were too few for African American women. She was known for her beauty, poise and grace. Many black children such as myself appreciated and applauded her for giving us role models that we could look up to and admire. In later years her and Ossie Davis were known for being civil rights activists. Her grace and dignity seem to magnify more with age."(Sharon, B., IL)
---
Alice J. Rollins is an aspiring freelance writer and blogger who holds an M.A. in Women's and Gender Studies from DePaul University. Her areas of interest include African American women's spirituality, feminist/womanist pedagogy and politics of migration. She is currently based in Chicago, IL. Email her at: alice@forharriet.com