Black Panthers & Civil Rights: Searching for Black Female Leaders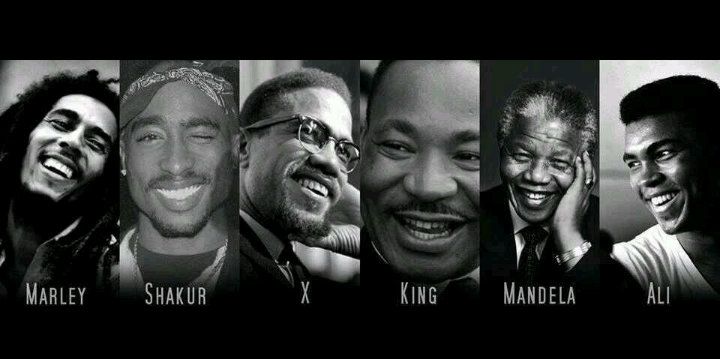 by Nya Brooks
When I saw this TwitPic, I was thinking "Where are the Black female leaders?"
I feel as Black women and Black feminists we always have to ask, "What about us?" Kind of like the baby in the family that does not get to do what their older siblings get to do, we are always left out or left behind. I feel as Black women we have to fight to squeeze into a place at the lunch table.
Think about it. During Black History or learning about the Civil Rights era which faces do we see the most? MLK, Malcolm X, and Frederick Douglass. It is already bad enough that when Black history is taught in school it is watered down and over simplified, but the little that is taught mainly focuses on Black men. I am not denying that these Black male leaders have contributed to the betterment of our Black people as a whole, but it also important to understand that although we should be united as a people, Black men and women have different experiences based on their gender.
In the reading, "
Demarginalizing the Intersection of Race and Sex: A Black Feminist Critique of Antidiscrimination Doctrine, Feminist Theory, and Antiracist Politics
," Kimberle Crenshaw explains intersectionality and how as Black women, we simultaneously experience the world through both our race and gender. With this being said, it serves no justice to see Black women as just "Black people", but it is also important to understand that our gender creates unique experiences that differ from Black men. Furthermore, as Black women, we should have access to and learn about leaders that share our unique experiences, which are Black women.
The other day, I was at a film screening about Fred Hampton, a leader of the Illinois chapter of the Black Panthers during the 60s. I could not help but think negative thoughts of how I did not care. My Black feminist kept coming out. It is not a simple task to respect an organization after learning stories of sexism being perpetuated by its members like requiring women to do secretarial tasks while the men did the organizing. (I plan on doing more research to support these stories.)
During the film screening, while the big bad brothers of the Black Panther Party were holding guns, waiting for the Pigs to attack, one Black woman was going around asking for blood types and the other was giving instructions on how to deal with tear gas and handing out white cloths to cover their faces. I am not saying these women's contributions were not worthy but come on.
I Googled images of the Black Panthers while writing this post. To no surprise, only a few pictures of Black women were found, most of them were images of Black men with afros and berets, looking cool and tough as hell.
Besides Harriet Tubman and Rosa Parks, Black women do not get as much praise when it comes to the history of Black people. I am not saying that Black men do not need their leaders because they do, but a cat cannot teach a dog how to bark, meaning that sometimes, especially for people of color, we need leaders and role models that look like us. This is not to say all of our role models have to look like us because there are many who have helped me excel in life that did not have did not share the same social identities as me. All I am saying is that it would be nice to see the Black women as the "bad motherfuckers" in charge for a change.
Related:
#BlackPowerIsForBlackMen: Conversations on Inclusion and #Fauxpologies
Womanifesto: Exploring Sexism, Misogyny and Accountability in Hip-Hop
More Than an Ally: Internalizing the Effects of Oppression
---
Nya Brooks is a fourth year undergraduate student at DePaul University in Chicago, IL. She will be graduating in June 2014 with a Bachelor's of Arts in Women's & Gender Studies and Communication & Media. After graduation, she hopes to work for a non profit that supports the empowerment of Black women and girls.
She began her personal blog,
Her Thoughts Her Life
, in Summer 2013. Most of her blog posts are based off of tweets she sees on Twitter (@nylonbows92). Besides blogging, tweeting, and going to school, she loves to dance and watch Black web series, including RoomieLoverFriends, That Guy, and The Unwritten Rules.