Natural Responses: Learning to Tune Out Feedback on My Natural Hair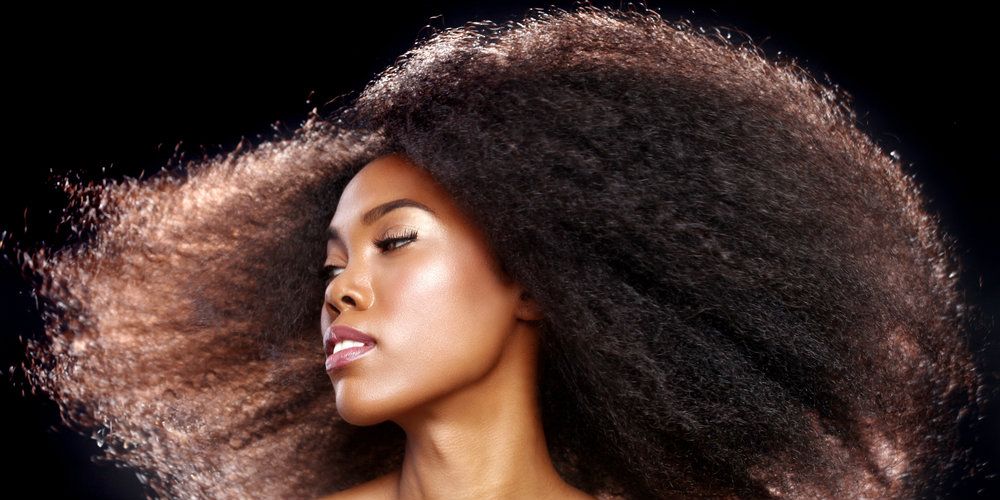 by Kathy Garland
There have been many responses about my natural hair. The most common of which I have become accustomed to is the African-American cashier's response.
"Twenty-two fifty two," says the cashier.
Eyes gaze up towards my hair.
"Here ya go," I reply as I remind her that we're conducting business here.
Eyes dart back to our hands.
"Out of twenty-five?" she asks.
Our eyes briefly meet, then a quick glance to my hair.
"Yep," I say.
She counts the change, and presses it into my hand, "Two dollars and forty-eight cents."
She takes one last look, and says, "Your hair is cute."
I've practiced what comes next. Big smile and then, "Thank you so much. That means a lot."
I have grown used to these types of responses. The ones that end in "Your hair is cute" are always easy to receive. What I have not become used to are the reactions of individuals with whom the relationship is more intimate. The colleague, the friend or the in-law's response is much more cherished, and subsequently when perceived as negative, much more hurtful.
The first uncomfortable conversation I had about my hair was at the university where I work. At the time, I was one of three African Americans in the College of Education. My two closest colleagues were white, middle-aged women who were self-proclaimed, progressive educators who had researched and taught complex concepts, such as white privilege and critical race theory. My co-workers had only seen my long, brown hair in a relaxed state; therefore, I felt it necessary to prepare them for the upcoming change. It went something like this:
Me:
I decided to go natural.
Colleague 1:
YAY! I can't wait to see what your hair is going to look like.
Colleague 2:
What's that mean?
Colleague 1:
It means she's going to wear her hair the way it grows, like um, Halle Berry. I bet it's going to be pretty. This is going to be fun.
Colleague 1:
Oh, does that mean you're going to have an afro?
Me:
I don't know. Cause I don't know what it really looks like.
That wasn't as bad as I thought. The conversation seemed supportive, inquisitive and possibly uplifting. However, that was the discussion that ensued when my hair was still relaxed.
It wasn't until I wore my transition hairstyle of flexirods that Colleague 2 shared what seemed to be a concern:
Colleague 2:
Your hair looks nice, but I hope that it doesn't get like Esparanza Spalding. Her hair is just obnoxious.
I really don't remember how I replied because quite honestly, I had no idea who Esparanza
Spalding was; you see my musical taste only include rap and R&B. I had to Google this Esparanza Spalding person. To my surprise, Esparanza Spalding had the biggest and most gorgeous afro I had ever seen. What was obnoxious about this? In fact, how could hair be obnoxious? Unfortunately, the conversation had passed, and there was no reason to re-visit the topic.
Then, something strange happened.
Eight months later, when I was fully natural and sporting my teenie weenie afro (affectionately referred to as a TWA in the natural community), Colleague 2 and I had another hair conversation. I was describing how my youngest daughter likes to feel my hair and sometimes jokingly hides items in there. During this conversation, she asked me if she could feel my hair as well. I'm pretty open about this, so I agreed. Lo and behold, she said it again, almost verbatim, It feels…it feels, kinky. But I hope that it doesn't get like Esparanza Spalding.
Her hair is just obnoxious.
I know. I know. This time I knew who Esperanza Spalding was. This time I knew exactly how much was implied in this singular comment. I had an opportunity most people would kill for. I had a "do-over." You know the kind where you're re-telling the story, and this time you say what you were really thinking?
I also know that an educator like my colleague, who is well-versed in and even teaches others about white privilege should be able to understand how her comments are situated in a history of racial oppression and expectation of beauty espoused by people who look like her. And given all of these factors, I, of all people should have been able to have an honest dialogue with Colleague 2 about this very subject.
But I didn't.
Perhaps it was because I could not believe that Colleague 2 had said this not once, but twice, symbolizing a true thought of hers; a big afro is obnoxious. Perhaps twelve years at predominantly white institutions had taught me to hide initial responses to similar comments because I've learned the price for speaking candidly is sometimes not worth the lesson. Whatever the reason, I managed a quiet, "Hmmm."
Another missed opportunity occurred with a family member. Last December, my family and I traveled to my husband, Dwight's hometown of Detroit for his cousin's wedding. This visit was special not only because of the occasion, but also because we had not seen some of these family members for over five years. All of his family would be there.
We pulled up to my in-laws' house at the same time as his aunts and cousins. We exchanged the usual pleasantries. You know the, oh, have you lost weight? And the, so tell me what do you do at your job? And, the girls are getting soooo big! comments. So far so good, I guess. No comments about my afro. Until, an aunt stopped me in the middle of the kitchen. She and her two sisters had worn very short, natural curly styles for at least ten years, so I didn't really expect what came next. It went something like this:
Auntie:
So, you went colored, huh?
Me:
(chuckles nervously) Yeah, I guess so. You are a mess.
Auntie:
Well, I went colored a long time ago, but you went aaallll the way.
This is one of those situations that your girlfriend re-tells, and you proceed to describe how you would have given Aunt So-and-So an African-American history lesson on how comments like these destroy our people's self esteem. You would have also referred her to rent and view Chris Rock's Good Hair (2009) or at least re-visit Spike Lee's School Daze (1988) scene "Good and Bad Hair." And if she's not into popular culture films, perhaps she could read up on the issue through a couple of blogs because you love your natural hair.
But this is not what I said.
What I did was continue the conversation. Maybe it was because I was not as confident as I had thought when we first arrived. Maybe it was because of the intricate and delicate relationship that had developed between my in-laws and me. Maybe it was because I didn't have the language to respectfully engage in the conversation. Whatever the reason, we continued with the pleasantries.
Auntie asked me what I was doing with my hair. I told her. She asked me if I performed this routine every night. I answered her. She told me it was "nice." I thanked her. We went back to discussing what I do at my job.
Photo Credit: Shutterstock