The Golden Age: Why I Still Miss 90s R&B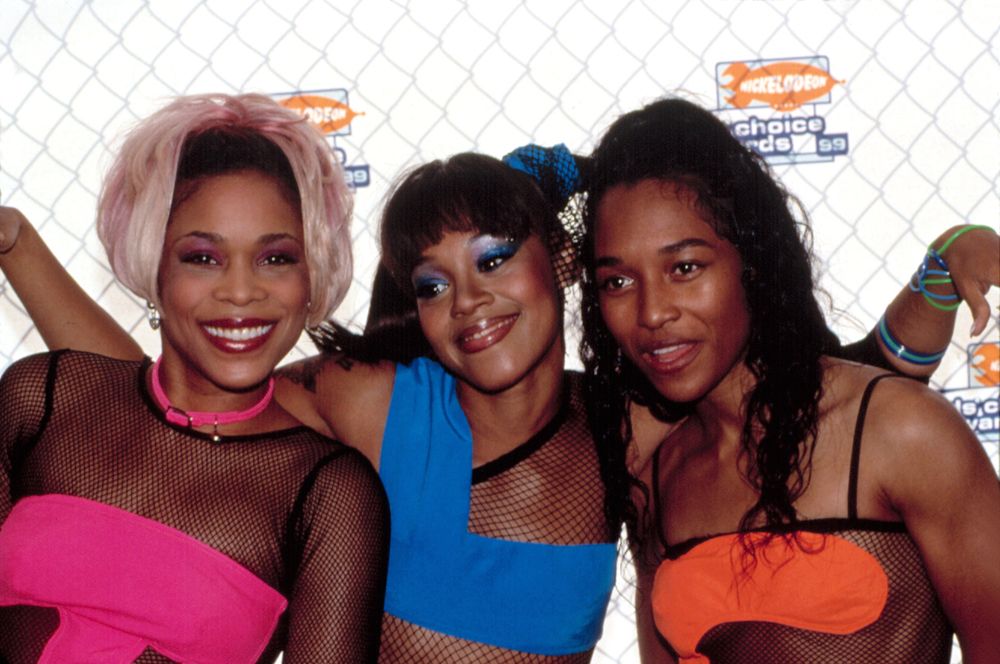 by Lyndsey Ellis
I bought my first cassette tape when I was 9 years old. It was TLC's debut album '
Ooooooohhh... On the TLC Tip
'. I remember begging my mom to take me to the neighborhood music store, buying the tape with my allowance money, ripping the plastic off, and popping it into my cassette player as soon as I got home. I read the jacket cover from front to back more times than I can remember and engaged in sing-a-longs with my best friends on the phone many nights. We used to argue over who would be Chili because we all loved her vocal ability.
This was 1992 when the songs of black R&B girl groups were in full rotation on the radio and music video channels. Their faces, interviews, and beauty secrets dominated the pages of Right On, Vibe, The Source, and all of the hottest music magazines of the time. Tour dates brought smiles and giddy anticipation to communities of color nationwide. No one could get enough of the crisp harmonies, fashion trends, and ripe energies that resonated with these ladies.
Personally, I think TLC was in a league all their own, but several sisters held down the music scene in their own right. There was EnVogue, Sisters With Voices (SWV), Xscape, Jade, Destiny's Child, Total, 702, Zhane, Kut Klose, Brownstone, Allure, Blaque, BlackGirl, Y?N Vee, MoKenStef and many more. Soulful ballads like '
Weak
',
'Grapevyne
', '
Kissin' You
', 'Understanding', and '
G.H.E.T.T.O.U.T.
' sparked deep reflections on every aspect of love while infectious, upbeat tunes like '
No, No, No
', '
Hey Mr. DJ
', '
No Scrubs
', '
Don't Walk Away
', and '
Where My Girls At?
' sweated out many relaxers in skating rinks, school events, house parties, and dance clubs across the country.
Girl Power had a brown face with rhythm, thick lips and curves. Black women could relate to each other on several levels through the musical gifts shared by recording artists who looked, dressed, and acted like us. Topics that impacted our lives—romance, physical intimacy, sexism, racism, and feminism in the rawest and most organic form—uplifted and/or comforted our spirits while keeping our fingers snapping and our hips rolling.
And, just like that, it all went away.
Everyone has their speculations on exactly when it happened, but the 'how' seems obvious to all of us now. Several groups parted ways after bitter fall outs. Many went bankrupt, got ripped off, or were dropped from their record labels as a result of poor management and promotion. Some went on indefinite hiatuses to pursue solo projects and other entertainment ventures or to raise families. Others experienced the worst of the lows, like the untimely death of TLC's Lisa 'Left Eye' Lopez.
Whatever the case, the presence of black female R&B groups came to an abrupt end, leaving us with sweet memories and a yearning to have the void filled. Every so often, we're teased with the possibility of another collective 'Pro-Sistah' musical movement. A Greatest Hits album gets released, a tribute film is created, some random performance at a music festival intrigues diehard fans, or there's rumors of a reunion via national tour or reality show.
But, it's not the same. The momentum of that magical era is now buried in R&B and pop solo artists competing to be the 'baddest bitch', or what appears to be the industry's general indifference to reviving black girl groups. No one's daring to pass the crown. The baton's stuck somewhere in the shuffle of events that defined the turn of the century.
For me, the reality of it all goes beyond music. I'm left wondering what the absence of black R&B female unions says about our culture, in terms of solidarity among women of color in both the public sphere
and in the privacy of our own individual lives. What positive images of black women working together to produce legacies do we have left? In the struggle to have our voices heard and taken seriously, has there gradually been a shift from the 'We Can Do It' mindset to an 'I Can Do it' mentality? Is togetherness becoming obsolete for the sake of success by one's own personal standalone achievements?
That's not to say that the same ordeal hasn't plagued the male side of black R&B groups. The Jodecis, Boyz II Mens, and Dru Hills are equally missed. It just worries me that the lack of female music groups might help reinforce the notion that women—particularly black women—are inclined to have bad attitudes and are incapable of working with each other because of our 'cattiness.' This is a false claim that continues to be a thorn in the side of the black community. Another misconception that could eventually be shattered through the representations of black women creating something beautiful and unique together. And, what better way to do that than through something as universal and therapeutic as music?
Maybe the rise of black female R&B groups was a fad that simply ran its course. Still, I'd like to think it was more than that, and I know I'm not alone. There's sisters and brothers out there who'd be thrilled to witness the formation and success of another black all-woman duo, trio, or quartet. Until then, we'll have to be satisfied with keeping the memory alive via YouTube throwbacks and group karaoke sessions.
Photo: Everett Collection / Shutterstock.com