For Maya: 7 Works by Maya Angelou That Everyone Should Know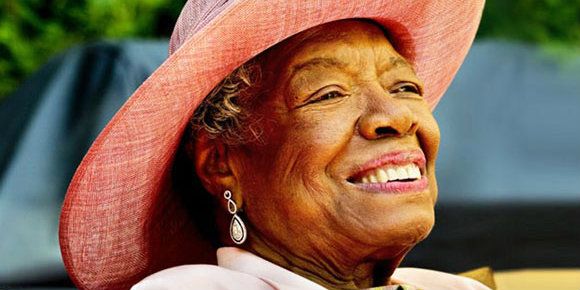 by Lyndsey Ellis
April 4th marks the 86th birthday of one of America's pioneers in contemporary literature. Dr. Maya Angelou, an acclaimed writer whose body of work spans over 5 decades, is known as a living legend with an unmatched tender heart and a knack for speaking her mind on behalf of black culture. She's considered one of the trailblazers of autobiographical writing, but is also largely recognized for her poetry and civil rights activism.
In fact, Dr. Angelou's track record puts her in multiple categories, earning her the right to be regarded as a Renaissance woman by audiences. In addition to writing and activism, she's taken on many roles over the course of her life, including dancer, historian, traveler, educator, playwright, actress, producer, and film director. All of Dr. Angelou's achievements reflect her gift of putting her finger on the pulse of black identity and, in turn, giving a voice to work that can be cherished for many lifetimes.
You're in for an unforgettable treat if you haven't checked out Dr. Angelou's contributions to literary arts and black thought, or if you're in need of a refresher. Here's seven of her most admirable works:
1)
I Know Why the Caged Bird Sings
In 1969, Dr. Angelou published her first autobiography entitled I Know Why the Caged Bird Sings. The story, written after mourning the loss of slain leader, Dr. Martin Luther King who was assassinated on her 40th birthday, is a coming-of-age tale centered on Dr. Angelou's troubled adolescent years when she was a victim of racism, sexual abuse, and a massive identity crisis. It became an instant success, earning her international acclaim and advancing black feminist writings throughout the 1970's. Women writers, particularly those of color, were heavily influenced by the book's forthright self-revelation and aesthetic appeal which rendered a unique form of memoir writing. I Know Why the Caged Bird Sings was eventually adapted into a made-for-television movie in 1979, giving black audiences access to relatable material.
2)
Just Give Me a Cool Drink of Water 'fore I Diiie: Poems
Just Give Me a Cool Drink of Water 'fore I Diiie, the first volume of poetry created by Dr. Angelou, was released in 1971 and was nominated for a Pulitzer Prize. The book is comprised of 38 poems and explores universal themes of love, loss, and survival. Several of the poems have a distinctive lyrical quality, taking on the makeup of early blues and jazz music. In 1993, Dr. Angelou was invited to read one of the book's pieces, On the Pulse of Morning, at former president Bill Clinton's inauguration.
3) Georgia, Georgia
Dr. Angelou's film, Georgia, Georgia was produced in Sweden in 1972 and was the first original screenplay in history to be written by a black woman. The drama was subsequently entered into the 23rd Berlin International Film Festival and became the first of several movies that Dr. Angelou had significant control over. Additional film endeavors include her appearance in the televised mini-series Roots in 1977, the making of Afro-Americans in the Arts documentary that received the Golden Eagle Award, and 1998's Down in the Delta which made her the first African-American woman to direct a major motion picture.
4)
And Still I Rise
And Still I Rise was Dr. Angelou's third volume of poetry published in 1978. The book primarily emphasizes the strong will among women to succeed in the face of adversity. Since then, Still I Rise and
Phenomenal Woman are two poems that have become cultural anthems for black audiences. Both have been frequently sampled in other bodies of work, such as John Singleton's 1993 blockbuster, Poetic Justice, which starred Janet Jackson and the late Tupac Shakur.
5)
The Heart of a Woman
1981's The Heart of a Woman is an autobiography that mainly chronicles Dr. Angelou's travels around the world. Selected as a feature in Oprah's Book Club in 1997, the narrative vividly recounts her time in Ghana, Cairo, New York, and California is retold, as well as her participation in America's Civil Rights Movement, motherhood, and romance with a South African Freedom Fighter.
6)
Letter to My Daughter
Often praised as a soulful "wisdom book", the 2009 New York Times bestseller, Letter to My Daughter, was Dr. Angelou's third collection of essays. The compilation was inspired by her friend, Oprah Winfrey, and written for her female admirers who she views as the daughters in her life. Throughout the book, Dr. Angelou offers a wealth of motherly guidance in her trademark autobiographical voice.
7)
Mom & Me & Mom
Dr. Angelou's latest book, Mom & Me & Mom, was published in 2013 on her 85th birthday and explores the complex relationship between the writer and her mother. The autobiography deals with abandonment, reunion, and unconditional love—all factors that represent what was destined to be an intense and lasting maternal bond.
Photo credit: MayaAngelou.com