8 Women Detail Sexual Assault Claims Against Former OKC Cop at Preliminary Hearing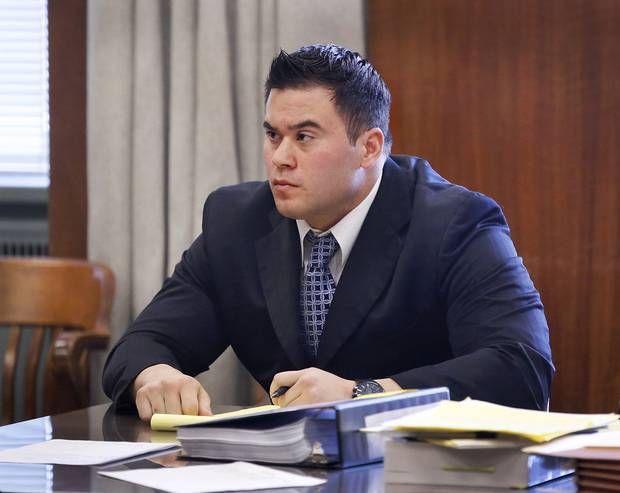 The Associated Press
Three women testified Monday that an Oklahoma City police officer sexually assaulted them while he was on duty, including one woman who said he sexually assaulted her while she was high on drugs and handcuffed to a hospital bed.
"I just gasped," the 23-year-old woman testified at a preliminary hearing for Daniel Holtzclaw. The Associated Press does not identify people who have made allegations of sexual assault. "I just really can't believe it because it's the police."
Holtzclaw, 27, has pleaded not guilty to 30 sex-assault counts — including rape and sexual battery — involving 13 women, as well as two other charges. He was first arrested in August after accusations of assaulting eight women on patrol, and others came forward afterward. The maximum charge for one count of first-degree rape alone is life in prison.
The hearing, which is expected to last through Tuesday, will determine whether there is sufficient evidence that crimes have been committed and whether there is probable cause to believe that Holtzclaw committed them. All of the victims are black; Holtzclaw is listed as Asian or Pacific Islander in court records. It's not clear whether race played a role in the alleged crimes.
The 23-year-old woman testified she encountered Holtzclaw and two other officers after she had taken some illegal drugs and was rushed to a hospital.
Holtzclaw accompanied the ambulance and handcuffed the woman — against whom charges of possession of a controlled dangerous substance with intent to distribute and destruction of evidence are pending — to the bed in a hospital room, she said. She testified that, while alone in the room with Holtzclaw, he touched her breast and assaulted her, and also exposed himself and forced her to perform oral sex. She said she felt shocked and disgusted by the behavior.
The woman denied suggestions by defense attorney Scott Adams that she could have been hallucinating.
Also Monday, a 52-year-old woman testified that Holtzclaw stopped her as she was walking through her neighborhood and put his hands under her blouse. When she objected, she said, he put a hand inside her pants. She said Holtzclaw then released her, saying: "OK, you don't have anything in there. You can go."
The third witness testified Holtzclaw placed her in the back of his squad car and repeatedly asked her if she was hiding something in her chest area. She said she finally lifted her shirt and bra and exposed her breasts.