11-Year-Old Girl Charged With Beating 2-Month-Old to Death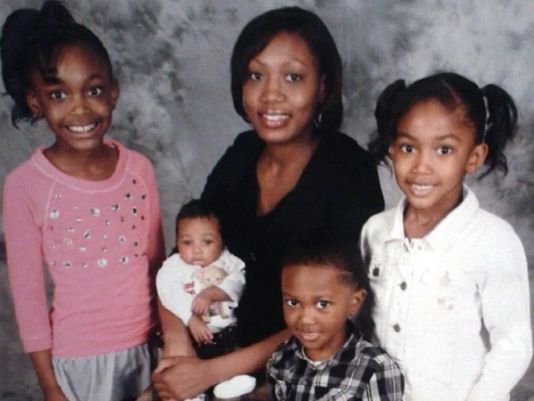 Trina Whitehead, center, in a family photo with her youngest child, Zuri.
An 11-year-old girl charged in the beating of a 2-month-old staying overnight with her expressed no remorse about the infant's death, police said.
The 11-year-old, her mother and the baby, Zuri Whitehead, were on a couch downstairs when the mother fell asleep at about 3 a.m. ET Friday, Wickliffe police Chief Randy Ice said at a news conference Monday.
Less than an hour later the 11-year-old awakened her mother to tell her something was wrong. She was holding the badly injured baby and took her upstairs, Ice said.
When the older girl came back downstairs, Zuri was bleeding and her head was badly swollen.
"I'm not sure she appreciated the gravity of what she did," said Ice, who called this one of his most disturbing cases in 30 years of police work.
The 11-year-old's mother immediately called 911. Zuri was flown the dozen miles to a children's trauma center in Cleveland, where she died during surgery for extensive internal injuries.
The girl will undergo psychiatric evaluation, Ice said.
At a Monday detention hearing, Judge Karen Lawson of Lake County Juvenile Court entered a not guilty plea on murder charges for the girl. Neither she nor her mother are being identified because of the girl's age; she will remain in custody in Lake County Juvenile Detention Center in Painesville, Ohio. Wickliffe is a city of about 13,000 people just south of Lake Erie.
The child's public defender declined to comment.
The mother of the 11-year-old and Zuri's mother, Trina Whitehead of Cleveland, met in 2008 while working in the medical clinic at Cleveland's Cuyahoga County jail and have remained fast friends, Whitehead said Tuesday.
The child wanted the baby to come for a sleepover, she said. The girl's mother called her around 9:30 p.m. Friday saying they were close by and wanted to keep Zuri overnight.
"She called and said she's sorry for what happened," Whitehead said. "She can't believe what's going on."
Whitehead said she and the girl's mother were best friends and she never saw any behavior from the girl that would concern her. Whitehead has three other children, and her 7- and 8-year-old daughters have stayed the night without problems.
Continue reading at USA Today