ASU Police Officer Caught on Camera Violently Arresting Professor Resigns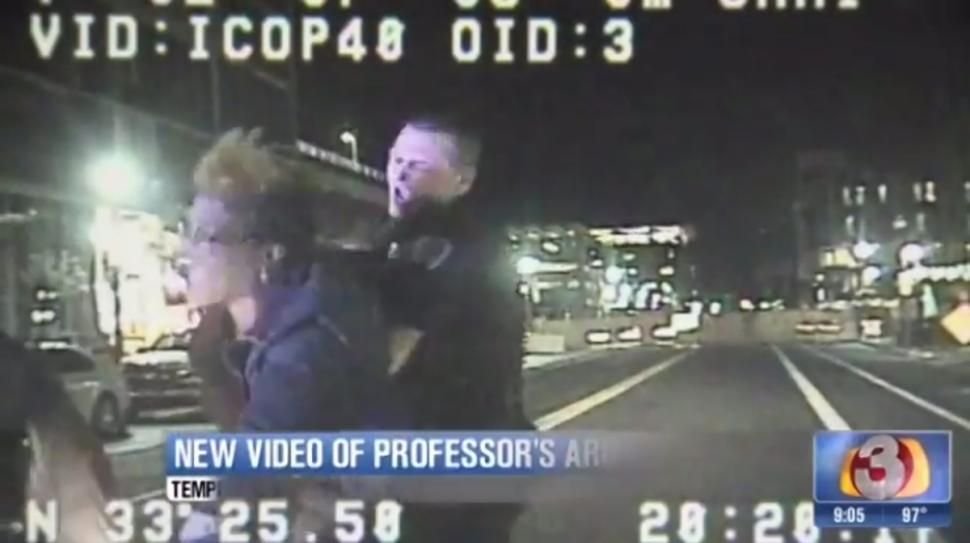 An Arizona State University police officer quit after a
video of him slamming a professor to the ground for jaywalking
went viral and drew national attention.
Officer Stewart Ferrin, 25, resigned Monday after an internal investigation found he was wrong to use so much force against ASU English professor Ersula Ore in May, according to the
Arizona Republic
.
Although the university initially stood behind Ferrin, ASU notified him of its intent to fire him after the investigation concluded in January, records show. Ferrin appealed the decision after seven months of administrative leave. He resigned before he could be fired.
"The lack of support, cooperation, and downright bias, coupled with an agenda to ruin my career, has become unbearable and I will not subject my family to this any longer," he said in
a letter
to the university.
Attorney Mel McDonald said Ferrin was sick of fighting and spending money when he didn't "want to go back there."
University police planned to fire him because he violated numerous policies when he arrested Ore, ASU Police Chief Michael Thompson said.
The incident began when Ore walked down the middle of a Tempe street to avoid construction on the sidewalk, according to the review. Ferrin stopped her and asked for ID. She refused. He tried to handcuff her but she struggled. He threw her to the pavement. When she stood up again, she kicked him in the shin. The encounter was caught on his dashcam.
Ore was charged with resisting arrest, assaulting a police officer and refusing to provide identification.
Ersula Ore filed a $2 million legal claim against Ferrin for excessive force in November.
The encounter drew nationwide outrage, with critics calling Ferrin's actions against the black professor racist. Ferrin claimed race played no role in how he acted.
Ore filed a $2 million legal claim against Ferrin for excessive force, false arrest and rights violations in November, opening the way for a lawsuit.
Ferrin did not have reason to arrest her in the first place because she yielded to traffic and was not required to produce ID, Thompson said.
His "rigid, power-based approach to law enforcement and unwillingness to exercise discretion and sound judgment culminated in you arresting Dr. Ore without a lawful basis," Thompson wrote in
a letter.
"In doing so, your actions brought discredit to yourself and ASUPD."
Continue reading at NY Daily News