Rosa Parks Had a Life of Radical Activism Before the Bus Boycott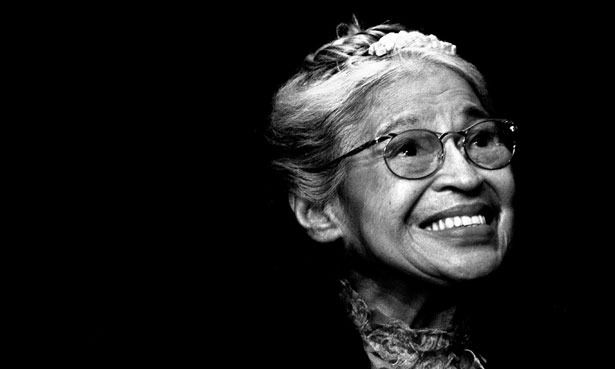 by Mary Curtis for The Root
Rosa Parks was a demure seamstress who defied a Montgomery, Ala., bus driver's order to give up her seat to a white man because -- on that particular day -- she was tired. Her spontaneous act sparked a 1955 bus boycott that launched the civil rights movement.
Sound familiar? It should. It's the tale told in history books. It's also just a tiny sliver of the truth. The flesh-and-blood Rosa Parks is a lot more interesting. "It's sad, I think," author Danielle L. McGuire told me. "We tend to like our heroes simple and meek."
"If we had a larger sense of who she was, a radical activist and warrior for human rights," instead of a powerless individual struck by chance, said McGuire, it would show the work and the time she put in over many years.
McGuire, an assistant professor in the history department of Wayne State University in Detroit, tells the history of Parks' activism in her just-published book,
At the Dark End of the Street:
Black Women, Rape, and Resistance -- a New History of the Civil Rights Movement From Rosa Parks to the Rise of Black Power. She gives a name to a few of the many women who risked their lives by speaking about brutality and injustice. They claimed their dignity and womanhood in a society that refused to recognize either.
The struggle of black women in America is not over. There are hints of the fight, McGuire said, in some lingering attitudes toward the first African-American first lady, the idea that somehow "black women are not supposed to meet with kings and queens in Europe."
But the historic progress that has been made is because of women such as Recy Taylor.
In 1944 Taylor, a 24-year-old mother and sharecropper, was walking home from an evening of singing and praying at the Rock Hill Holiness Church in Abbeville, Ala., when she was kidnapped by seven white men with shotguns and knives, raped and left for dead.
The Montgomery branch of the NAACP dispatched its best investigator and organizer, Rosa Parks -- yes, Rosa Parks -- to Abbeville. Despite a confession, corroborating testimony, affidavits from at least three eyewitnesses and overwhelming evidence, two all-white, all-male grand juries refused to issue any indictments. That result was not unusual across the South.
"They said they'd kill me if I told on them," Taylor said. But she spoke out anyway. When her life was threatened and the home she shared with her husband and toddler firebombed, she moved in with her father, who spent every night crouched in a tree, holding a shotgun that he was ready to use to protect his family. Decades before the women's movement, as McGuire writes, "Taylor's refusal to remain silent helped expose a ritual of rape in existence since slavery, inspired a nationwide campaign to defend black womanhood, and gave hope to thousands suffering through similar abuses."
Her case, and efforts led by Parks, who formed the Committee for Equal Justice, and others, drew attention and action. Alabama Gov. Chauncey Sparks received petitions and thousands of postcards, which McGuire found as she sifted through boxes of material in archives. On front pages of black newspapers over years and years, she read the chilling details of stories that mirrored Taylor's.
Photo: AP/Paul Sancya