10 Times Black Women Were Beyond Magical in 2015
by Queen Muse
It's been an amazing year for black women. From entertainment to politics to sports, black women have slashed records, made history, and stood up nobly for important causes, for themselves and for one another. These are the #BlackGirlMagic moments that made us laugh, cry tears of joy or shout a unified "Yaaasss!" in celebration of our fellow sisters.
10. Actress Zendaya Defends Her Locs
When actress and singer Zendaya Coleman donned faux locs on the red carpet at this year's Academy Awards, there was no shortage of comments about her new look. Most of the response to her new style was positive… and then came the Fashion Police. While reviewing Zendaya's red carpet look on the E! Network show, Giuliana Rancic remarked that Zendaya's locs made her look like "she smells like patchouli oil or weed." Rancic would later issue an apology for the remarks, but not before everyone from Viola Davis to Ava DuVernay—and all of Black Twitter—came out in support of Zendaya, reassuring her that she is beautiful no matter how her hair is styled. We were glad to see so much support for Zendaya, but her response to the ignorant comment is what really made us proud. The icing on the cake is that Mattel later honored Zendaya with a
one-of-a-kind Barbie doll
in her likeness.
February 24, 2015
9. Being Mary Jane Tackled Mental Health in the Black Community
"Sparrow," an episode of the third season of Being Mary Jane addressed a difficult subject that black women, or anyone in the black community rarely ever discusses: suicide. If you haven't seen it yet, I'll spare you the spoilers. It's definitely an episode worth watching even if you are not a regular viewer of the series. The show's creator, Mara Brock Akil, poignantly addressed many flawed yet commonly held views on mental health within the black community—including the stigma of being treated for mental illness—as well as the complexities of being a good sister friend. You can check out the full episode
on BET's website
.
Photo: BET
8. Janelle Monáe Asks "Hell You Talmbout"?
During an August concert in Philadelphia, Janelle Monáe and her Wondaland label mates released a new song addressing police brutality and killings of black women and men titled "Hell You Talmbout." Echoing the messages of #SayHerName and #BlackLivesMatter, Monáe led the crowd in a rousing chant of the names of victims of police brutality, from Sandra Bland to Freddie Gray. Monáe has always been an artist who pushes the envelope by addressing controversial issues with tact and class. She later teamed up with the Philadelphia chapter of Black Lives Matter and led a march through the city—providing yet another great example of sisters on the frontlines of the fight for justice, celebrity or not. Check out a video of the concert performance below.
7. Michelle Obama Proclaims Black Girls Rock
First Lady Michelle Obama gave a speech at this year's Black Girls Rock Awards ceremony that became an instant classic. In her speech, she encouraged young black girls to strive beyond the negative messages they encounter on a daily basis. "There are voices that tell you that you're not good enough; that you have to look a certain way, act a certain way. That if you speak up, you're too loud; if you step up to lead, you're being bossy…. No matter who you are or where you come from, you are beautiful, powerful. You are funny. You are brilliant." Watch the full speech
here
.
Photo: BET
6. Misty Copeland Breaks Barriers in Ballet
Misty Copeland completely slayed this year. The classical ballet dancer finally reached a goal she'd set in her teens when he became the first African-American principal dancer with the American Ballet Theater this summer. From there, she went on to grace the cover of nearly every major magazine (while also sharing
flawless photos
on Instagram) while a
documentary based on her career
debuted at the Tribeca Film Festival to rave reviews. And in October, it was reported that Copeland may also be
producing a new dance drama for Fox
. Copeland has openly discussed the challenges of being a Black ballerina as she's fought to climb to the top of the ranks of the American Ballet Theater. She was even told that she didn't have the body or talent for ballet and that, as a Black woman, she didn't look right in tutus. Someone somewhere is eating those words now.
5. Serena Williams Shatters Records… Again
As if she didn't already have enough accolades under her belt, Serena Williams dominated tennis once again this year. In addition to her 700+ career wins, Williams won her 6th Wimbledon title and became the first person since Steffi Graf in 1990 to hold the #1 ranking in tennis for two consecutive years. She added to her trophy case a Women's Tennis Association Player of the Year award for the seventh time in her career, and was named Sports Illustrated's 2015 Sportsperson of the Year. In the midst of it all, Williams gave us life on magazine covers and red carpets, outshining senseless and racist criticism about her physique.
Photo: ABC News / Associated Press
4. Viola Davis Makes History
Viola Davis scored her first Emmy award win for her starring role in the ABC series
How to Get Away With Murder
, executive produced by TV titan Shonda Rhimes. Her win for Best Leading Actress in a Drama Series made Davis the first African-American woman to win the award. In her acceptance speech, Davis addressed the lack of opportunities for women of color in Hollywood: "You cannot win an Emmy for roles that are simply not there." Her speech initiated important conversations about race in Hollywood, from supporters and haters alike. When one such hater—soap star Nancy Lee Grahn—tweeted that she didn't like Davis' moving speech, all of Black Twitter and most of Hollywood stood in Davis' defense, prompting Grahn to delete the tweets and issue several apologies.
3. Taraji P. Henson Wins By Supporting Her Sisters
While many were captivated by Taraji P. Henson's raucous Cookie, the character she plays on the hit Fox series Empire, most sisters were more enamored with Taraji herself. While Henson was also nominated for an Emmy for Best Leading Actress in a Drama Series, that didn't stop Henson from standing,
clapping and showing true support
for Davis and fellow actress
Regina King
, who also won an Emmy for Best Supporting Actress in a Limited Series or Movie. Henson reminded us what humility, true sisterhood and friendship looks like.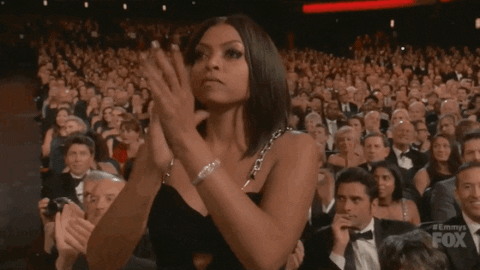 2. Ava DuVernay's Doll Flies off Shelves
Mattel created a
Barbie doll
in the likeness of Selma director Ava DuVernay and it took only 15 minutes for loyal fans to snatch up every one of them. DuVernay,
who was shocked by the overwhelming response
, also directed an
epic commercial
for Apple Music celebrating magical Black girl sisterhood, which starred Kerry Washington, Taraji P. Henson, and Mary J. Blige.
1. Bree Newsome Takes Down the Confederate Flag
While the nation was still mourning the nine lives lost during the massacre at Charleston's Emanuel AME Church and lawmakers were debating whether or not the Confederate flag should be abolished nationwide, activist and filmmaker Bree Newsome was taking action. After some thoughtful planning with area activists, Newsome woke up early on June 27, scaled a 30-foot flagpole in front of the statehouse in Columbia, S.C. and removed the Confederate flag. Newsome was arrested and later released on bond for committing the brave act, which she said was necessary to tear down the long recognized symbol of "racial intimidation and fear." Numerous hashtags emerged in support of her cause and artists across the country began
drawing epic images of Newsome as a superhero
, which is exactly how we view our sister in arms. Salute.
Photo: Reuters
With the year coming to a close, we look forward to seeing what other amazing feats and #BlackGirlMagic achievements our sisters make in 2016.
Queen Muse is a freelance writer whose passion for journalism is inspired by the interesting lives of everyday people. Her stories and commentaries have been featured in numerous publications, including WHYY Newsworks, Media Diversified, For Harriet, the Philadelphia Daily News, the Philadelphia Business Journal, and on NBC10.com. Queen is an alumnus of the 2012 class of the White House Internship Program and has a B.A. and an M.A. in Communications from LaSalle University in Philadelphia, PA.