Under No Circumstances Should Beyoncé Play Saartjie Baartman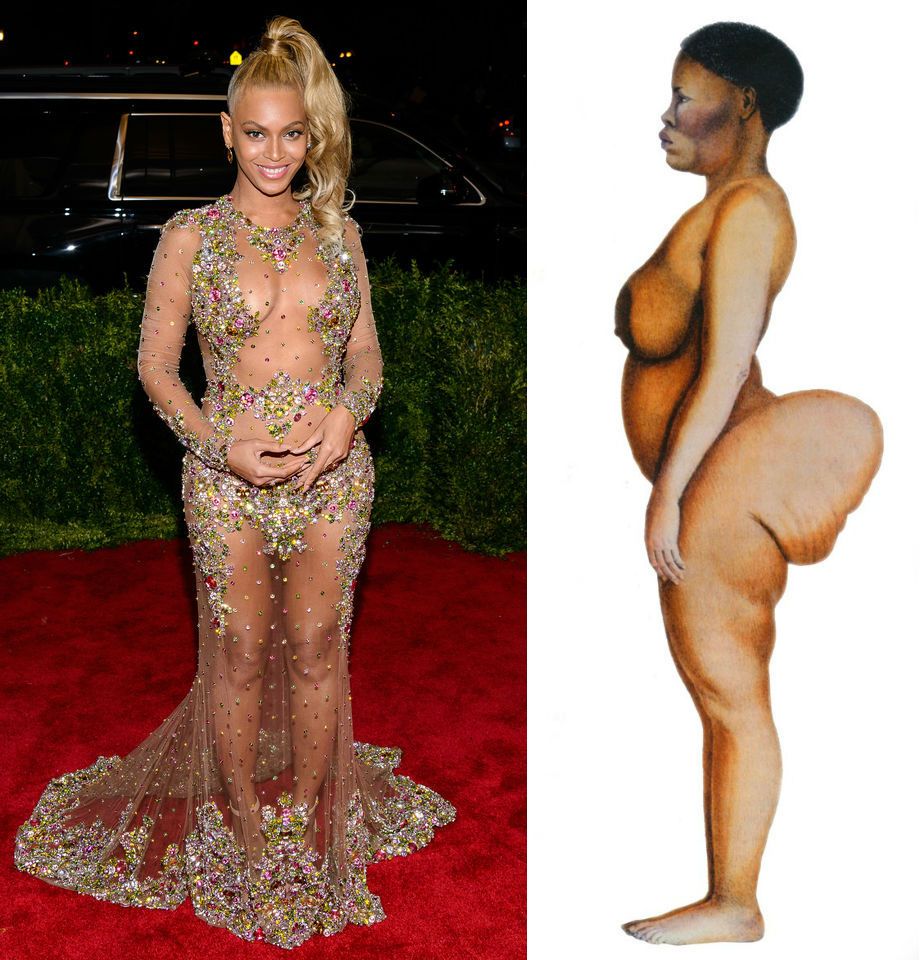 by Kimberly Foster (@KimberlyNFoster)
Beyoncé is inarguably one of the most powerful Black women in entertainment. She's accomplished an unprecedented degree of visibility in the mainstream, not by chance. Along every step of her career, management has guided her shrewdly to make moves that would not threaten her goals. For years, the biggest criticism of Bey's personal image was she played it too safe, but "safe" set her up for global superstardom.
Now Beyonce, 34, manages herself and approaches her career choices with a similar kind of care but a new boldness. 2013's Self-Titled saw her visually and aurally cut loose as an artist. She gave audiences more than we've ever seen, and now the world awaits her next move.
It appears that Beyoncé, who has long been derided for her lackluster acting, wants to prove her detractors wrong. She will star in a remake of
A Star is Born
alongside Bradley Cooper, and over the weekend
a rumor emerged
that she's set her sights on a biography of Saartjie Baartman. According to the report, Beyonce would like to write and star in the film.
Baartman was lured from her South African home in 1810 and enslaved. During this time until her death in 1815, she was put on display for European onlookers to gawk at her shapely body. She
could not escape exploitation
even in death. Her skeleton was on display in France until 1976. Baartman's story has come to represent the intersection of hundreds of years of degradation that Black women endured and global colonialism. It's a fascinating one. A well-done film version in English (a
French film was released in 2010
) would be a delight, but Beyonce should, under no circumstances, play Saartjie Baartman.
Beyoncé in the role would only perpetuate the type of colorist representations Black women have long fought against. If the story intrigues her, Beyoncé should aid in getting the movie made. In fact, she may be able to do her most important work as a producer, the kind of position Brad Pitt took in getting
12 Years a Slave
to the big screen. Her push would be invaluable. That might be the only way a woman who resembles Baartman in complexion and body-type would be cast.
Moreover, all African Americans should be sensitive to the ways we may participate in the erasure of talent that emerges from the continent of Africa. We certainly do not have the power to perpetuate white supremacy systemically, but with the little visibility we have, we can attempt to elevate authentic voices. Ultimately, those of us who have access and resources must embrace that we are not always the right person to tell every story no matter how deeply it resonates.
Beyoncé draws undue cynicism about any choice she makes. Folks
cannot wait
to pull out their petty daggers and take aim. Claims that she is interested in the story only for its potential to garner her awards are unfair. She recognizes the power of her voice. Even the rumors of a connection to the project have raised the profile of Baartman's tragedy. This, too, is important work.
A Saartjie Baartman biopic would not be just "another slave" movie. Americans get far too few depictions of slavery as an international system of trade and women are usually relegated to supportive roles. A Baartman film would be a coup. The history must be told.
UPDATE: Beyonce's
reps confirm she is not working on
a Saartjie Baartman project
Photo:
Eastfjord Productions
/
Shutterstock.com
/Apic/Getty
Kimberly Foster is the founder and editor-in-chief of For Harriet. Email or Follow @KimberlyNFoster