How Lupita Nyong'o's Hair is Redefining Glamour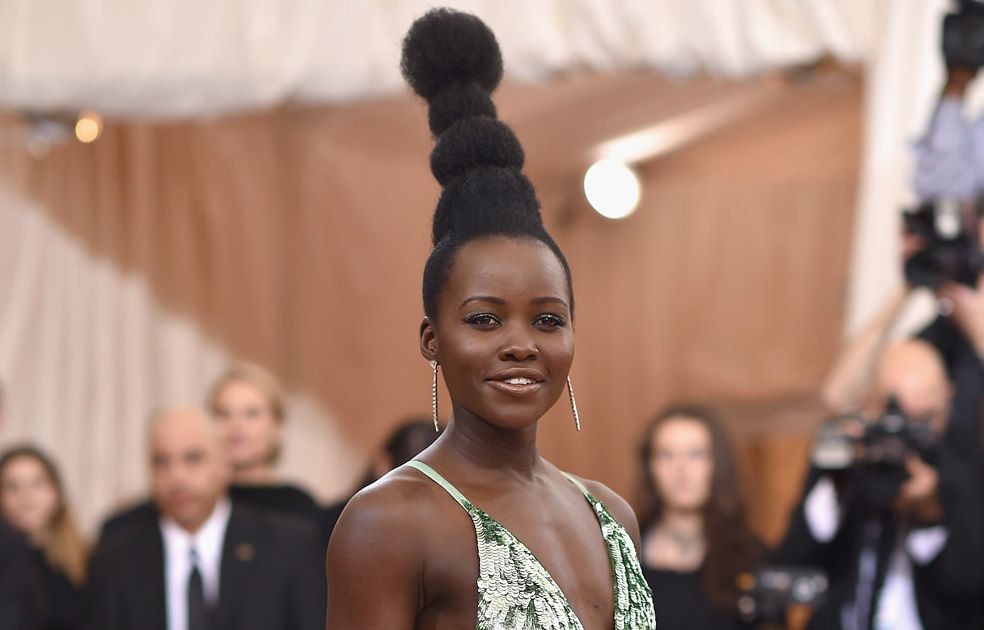 by Kimberly Foster @KimberlyNFoster
Lupita Nyong'o defies nearly every physical expectation of what a Hollywood starlet should be. She is dark-skinned with an athletic body and short, natural hair.
She first drew attention for her enormous talent, but Ms. Nyong'o's star has been aided by her ability to wear couture with an easy confidence. Her striking and sometimes challenging looks, created with the help of stylist Micaela Erlanger, dominated red carpets during the 2014 award show season. Suddenly she became the bell of the ball. Even the fashion neutral awaited her arrival at high profile events to see what she would have on, because admiration of her presence extends far beyond the clothes.
Lupita Nyong'o in Ralph Lauren at the Golden Globes in 2014 - Photos: Getty Images
Glamour is a construct in great need of disruption. Often defined as sleek, and white, on each of her red carpet outings, Ms. Nyongo's unambiguously Black body and kinky hair interrupts the parade of unchallenged norms. And the Black girls who have long thumbed through pages of fashion magazines get to bear witness to a Black woman rising star, gentle and self-possessed, who commands attention on the world's biggest stages. A woman who quietly calls into question the things we're taught about beauty.
Every time Lupita Nyong'o appears as the best dressed woman on a red carpet or graces a magazine cover, she is shifting paradigms. And it is her hair, an oft overlooked accessory, that is of particular importance.
Ms. Nyong'o, a Kenyan woman, has hair like mine, tightly coiled and undeniably African. And she wears it proudly to formal events with expensive jewels and bespoke ensembles. She rejects all assumptions about the "appropriateness" of natural hair for special occassions. Sometimes Lupita's coifs are graceful, Sometimes they are elegant, Sometimes they are avant-garde. But they are always appropriate because she is wearing them so well that she cannot be denied.
With a mix of playfulness and thoughtfulness, she and hairstylist Vernon Francois experiment with shape, height, symmetry, and length. And onlookers enjoy the looks because in a world where a Black woman cannot take a breath without being interrogated about her aesthetic choices, the hair never feels heavy. It is self-expression and celebration. Her styles recall heritage without lecturing, as she did at this year's Metropolitan Museum of Art Costume Institute Benefit, commonly known as the Met Gala.
Lupita Nyong'o attends the Met Gala in 2016 - Photo: Getty Images
At the Met Gala, Ms. Nyong'o sported a ponytail that stretched toward the sun. When American Vogue editor-at-large Andre Leon Talley inquired on the red carpet, she said the style was inspired by "the structural hair-dos from around the continent." She, of course, meant the continent of Africa and Talley, in a moment of recognition, added, "This is very Nina Simone."
The day after the event, Vogue.com mistakenly attributed the towering coiffure's inspiration to Audrey Hepburn. With couth and clarity she laid out that hers was a tribute to the ingenuity of Black women across the Diaspora. Francois told The Fader, "We were greatly inspired by African tribes, sculptured silhouettes and the strengths of textured hair." Nyong'o, Talley, and Francois argue that glamour is inherent to African Diasporic culture, though it has long been unrecognized by the mainstream arbiters of taste.
The Vogue gaffe cemented why I am still made uneasy when the white gaze meets Ms. Nyong'o's beauty. She remains an oddity to be misread by those who have had limited interaction with Black culture and history. But it also underscores why she and her hair are so crucial. Natural Black hair on red carpets is still a rarity, and many believe it to be out of place. For example, talk show host Wendy Williams implied Viola Davis's short auburn style made her look masculine at the Oscars in 2014.
Seeing Lupita Nyong'o matters. And we might not have her if she had not seen. At the Essence Black Women in Hollywood luncheon in 2007, she cited the importance of witnessing the celebration of Sudanese/British model Alek Wek on the formation of her self esteem. "There was no apology in you." she told Wek when they met shortly after the speech. And there is none in Ms. Nyong'o.
Wearing highly textured hair that defies gravity with little help is an act of defiance. Lupita Nyong'o would be a much different kind of style icon if she wore relaxed hair or straight extensions regularly, equally as stunning but far less transgressive. With her dynamic natural hairstyles, she offers an alternative, one that is stunning and unmissable.
Kimberly Foster is the founder and editor-in-chief of For Harriet. Email or Follow @KimberlyNFoster