Cooking 101: Double Duty Marinara Sauce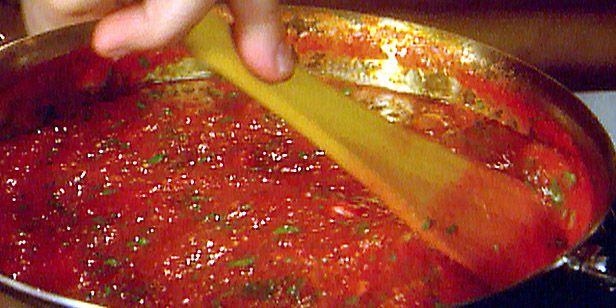 Let me start off by saying that I am in no way a professional chef or cook. I have not had a single day of formal training in any kitchen of a restaurant, unless you count that short lived position with Taco Bell.
What I am is a wife and mother of 2, who loves to eat!!!(Yes, I admit that openly!!!!) I like to experiment with food and flavors and I like to take a recipe and make it my own. I got most of my experience in cooking by sitting at the table and watching my mother and grandmothers. I would simply sit down and watch them, never once realizing that they were actually providing me with all the education I would need to become the person I am today, not only in the kitchen but in life in general. I rarely saw my grandmother's use recipes, and although my mother had a kitchen full of cook books, they were basically for decoration. When I did see them use a recipe, it was always a scrap piece of weathered paper that had been passed down to them for an untold amount of years and would remain on that paper until it was completely faded. But even though they did not follow the formal instructions of a book, they managed to make dishes that were delightful and that still trigger a slight smile on my face to this day. Using the Jedi Knight approach to cooking seemed to work for them and it has proven true with me as well.
The Double Duty Marinara Sauce came to be simply because I wanted to see if make a spaghetti sauce that tasted better than the ones you could get in a jar or can. It took me a few tries, and some serious research, but I finally nailed it down. I call this sauce Double Duty, because it serves as a sauce for everything from spaghetti to meatball subs and basically any dish that calls for a tomato based sauce. It also can be divided and frozen, for those who do not have a large family to feed. You can also add your own summer veggies to make this sauce chunky and flavorful as well as healthful.
Ingredients
¼ cup olive oil

6 cloves garlic, minced (add less if you are not a fan of garlic, more if you are.)

2 (28 ounce) cans crushed tomatoes

2 (28 ounce) cans stewed tomatoes

¼ cup and 1 tablespoon dried oregano

¼ cup and 1 tablespoon dried parsley

¼ cup and 1 table spoon dried basil

¼ cup and 1 table spoon diced fresh rosemary

1 cup of red wine (whatever you like to drink is fine, does not have to be expensive.)

½ cup grated Romano cheese

½ cup grated Parmesan cheese

4 bay leaves

2 teaspoons onion powder

Salt and Pepper to taste
Directions
Heat oil in a large saucepan over medium heat. Sauté garlic until aromatic and tender. Stir in crushed tomatoes, stewed tomatoes, oregano, parsley, basil and rosemary.

Next add red wine, Romano cheese, parmesan cheese, bay leaves, sugar, salt, pepper and onion powder.

Reduce heat to low and simmer for at least 40 minutes.

Add your favorite veggies to make this a more healthful and hearty sauce for meatball sandwiches and pasta dishes.
Serves 16
Hint: This is a very versatile sauce. Using fresh herbs can give it a whole other flavor as well as a brand new look.
Double Duty Marinara Sauce shown with Ground Turkey Meatballs.
Michelle is a Midwestern girl, with a Southern heart and a bit of an eccentric streak running through her. Along with being a wife and mother of 2, she also wears the hats of student, counselor, life coach,cook, friend and occasional matchmaker, all while keeping a Zen like approach to life and all that comes with it. Balance and comedy are the keys to keeping life interesting and livable and she has ALMOST mastered both.