Give It a Spin: The Health Benefits of Pole Dancing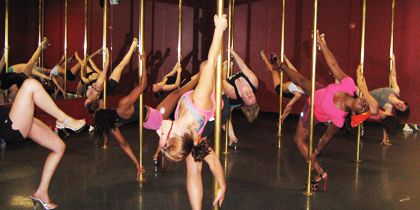 Walk. Run. Lift. Repeat. If this sounds familiar (and boring!), then it may be time to add some fun and sexy new moves to your fitness routine. In addition to toning and strengthening your body, exotic dance classes can improve your stamina, flexibility and give you a boost of confidence as well.
While the classes may seem a bit intimidating at first, pretty much anyone can do it. The classes are full of women of all shapes, ages and fitness levels who are doctors, lawyers, teachers, college students and stay-at-home moms. Looking to try something new, my roommate and I started taking classes at
Xpose Fitness
, a Maryland-based fitness and wellness center for women, last summer. We were instantly hooked.
"Besides empowering the mind, body and soul, the classes build all muscle groups," says Trina Kadesky, a fitness instructor at Xpose. "Most women are not born with upper body strength, so pole dancing is a small mix of cardio and the rest is strengthening. The best part is knowing you can pull yourself up and get your booty over your head at any time!"
Xpose offers two types of classes: pole and floor/chair. Floor/chair is a full-body workout that uses exotic dance, yoga and Pilates moves and a chair as a prop and fitness tool. Meanwhile, pole dancing involves spins, inverted moves and climbing, depending on the level. At the end of both classes, you incorporate all of the moves you learned into a short routine.
"Endorphins are produced rapidly in just one 50-minute class, allowing clients to leave feeling rejuvenated, energetic and ready to take on the world…" says former Xpose instructor Kristen Gamido. "The workout improves the entire body, inside and out, exponentially despite the frequency of attendance."
Shortly after I started taking exotic dance classes, I noticed a visible difference in my appearance (Michelle Obama arms, here I come!). But more importantly, I've become more comfortable with my body, and, as a result, more confident, too. The dance studio is a place where women can feel good about themselves and make new friends. Best of all, you'll leave class feeling like a sexy diva!
Interested in trying exotic dance classes? Awesome! Before you go, check out the following tips to ensure you have a great time:
Bring a friend. Working out is more fun when you have a fitness partner. You're less likely to skip classes when someone is waiting for you.
Do it in heels. Sounds challenging, but the heels provide a better workout for your legs and derrière. Trust me. Try walking/dancing around the house for practice.
Have fun. Don't worry about getting the moves exactly right. As long as you're moving your body and having a good time, that's all that matters.
L'Oreal Thompson is the assistant editor for Chesapeake Home + Living magazine, a staff writer for Harford and Howard magazines and a TV blogger for
bthesite.com
. She is addicted to cupcakes, shoes and all things purple. Follow her on Twitter @
LOrealKT
.