Black Women and SNL: When Will We Be In On The Joke?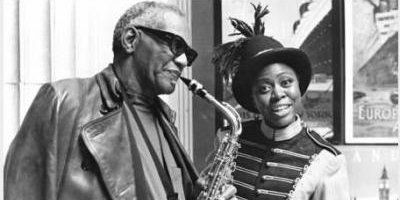 Originally posted on
'83 to Infinity
When I'm not out being a Saturday night social butterfly, you can catch me at home, curled up on the couch, tuned into Saturday Night Live. A recent Saturday was one of those homebody nights. As I chuckled at host Anne Hathaway's portrayals of Claire Danes and Katie Holmes, and marveled at the Windows 98 screensaver effect of Rihanna's "Diamonds" performance, I had a thought. Where are all the Black women on SNL?
For as long as I can remember, save for the comedic goddess that is Maya Rudolph, the only Black women I've seen on SNL were the musical guests – or the Black male cast members in drag. A look back at the history of SNL reveals that in the show's 38-season run (first airing on October 11, 1975), there have been only 3 Black female cast members – Danitra Vance, Ellen Cleghorne, and the aforementioned Maya Rudolph. So, what gives?
Rudolph's exit from the show was 5 years ago, but she has since been brought back a number of times for guest appearances, playing Oprah Winfrey, Michelle Obama, and Beyonce in various skits. This seems to suggest that SNL sees the need for representation of Black women on the show, but they clearly haven't done much to satisfy that need.
(Read:
Franchesca Ramsey: A YouTube Sensation Black Girls Can Believe In
)
In today's world, Black women are Grammy-award winning pop stars, media moguls, First Ladies, TV show hosts, actresses, sports stars, and more. We are also mothers, wives, sisters, daughters, career women, dreamers, and anything that could be just as funny or as socially relevant as SNL's current output. To virtually make Black women's imprint on today's society non-existent on a platform like SNL is highly negligent in my perspective. Even more cutting is when Black women are parodied, distorted, and exaggerated by Black men in drag. As a Black woman, that only leaves me feeling like the butt of the joke, not an active agent in the humour.
Hosting SNL is also a great vehicle for exposure. Halle Berry hosted back in 2003. Janet Jackson and Queen Latifah played host/musical guest double duty in 2004. Gabourey Sidibe was the last Black woman to host in early 2010. As per the records I found online, Black women have come and gone in short spurts in SNL hosting capacities. [Editor's Note: Maya Rudolph last hosted SNL in February 2012]
(Read:
The Milk's Gone Bad: Don't Believe Everything You Read or Hear
)
That's not to say that there aren't any Black women capable of hosting, that don't have projects that need promotion, and that couldn't benefit from showing off a well-known or unknown comedic side. I could see Kerry Washington on that stage. I could see Gabby Douglas on that stage. One day I hope that Tracee Ellis Ross has a big enough project to push to be on that stage, because I think she'd be fabulous. Let it be known that there are Black women in the limelight who can command the SNL stage, who can garner interest in the show, who can benefit from the experience – and who deserve the opportunity.
Going back to my original point – I am sure there is also no shortage of funny women – who happen to be Black – that could rock SNL as a regular cast member. Whether to touch on current news with our public figures, or simply to add diversity to a skit about regular people doing regular things, you would imagine that a forward-thinking show like SNL would recognize the value in this. During a conversation about this very topic on Twitter, I had a friend state that "maybe it's a good thing," expressing concerns that Black women may simply become the center of stereotypical jokes on the show. In my mind, the pros of having Black women on SNL outweigh the cons – and how can we raise concerns about stereotyping when we're barely represented in the first place?
(Read:
Steel Magnolias and Positive Black Images Are Not Above Critique
)
As we roll into 2013, I look forward to more nights where I hang my social butterfly wings up for the weekend and curl up on the couch with my blanket and remote. I'm also looking forward to the day that Saturday Night Live gives Black women the platform and opportunity to share the funny voices that we possess.
Dear Lorne Michaels and the powers that be at SNL,
Let us in on the joke.
Signed,
Funny Black women everywhere.
Are you an SNL fan? What do you think of the diversity level on the show? Do you have any thoughts on the lack of representation of Black women on the show? If I've made any glaring omissions of Black women on the show, please let me know!
---
'83 To Infinity
is a personal lifestyle blog that highlights life's journeys and lives by the message that "it's never too late to learn something new, do something new, or be someone new." Topics include natural hair care, health & wellness, relationships and art & culture. Using a uniquely Afro-Caribbean-Canadian perspective, '83 To Infinity connects with readers to discuss the things that make us laugh, think, and grow.