100 Books by Black Women Everyone Must Read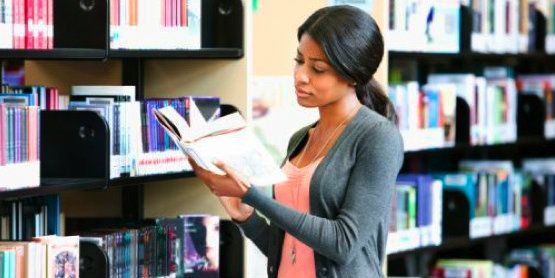 Far too often Black women are excluded from the classic literary canon. But Black women have consistently published evocative, thoughtful works. Our stories soar. They provoke. They inspire. The work of Black women across history is expansive. Though we've compiled 100 selections, this is still only the tip of the literary iceberg. We encourage you to leave a comment and share more brilliant works by Black women.
Half of a Yellow Sun
- Chimamanda Ngozi Adichie


With effortless grace, celebrated author Chimamanda Ngozi Adichie illuminates a seminal moment in modern African history: Biafra's impassioned struggle to establish an independent republic in southeastern Nigeria during the late 1960s. We experience this tumultuous decade alongside five unforgettable characters: Ugwu, a thirteen-year-old houseboy who works for Odenigbo, a university professor full of revolutionary zeal; Olanna, the professor's beautiful young mistress who has abandoned her life in Lagos for a dusty town and her lover's charm; and Richard, a shy young Englishman infatuated with Olanna's willful twin sister Kainene. Half of a Yellow Sun is a tremendously evocative novel of the promise, hope, and disappointment of the Biafran war. (

Sources

)




The New Jim Crow
- Michelle Alexander



Our Black Year: One Family's Quest to Buy Black in America's Racially Divided Economy
- Maggie Anderson



I Know Why the Caged Bird Sings
- Maya Angelou


Sent by their mother to live with their devout, self-sufficient grandmother in a small Southern town, Maya and her brother, Bailey, endure the ache of abandonment and the prejudice of the local "powhitetrash." At eight years old and back at her mother's side in St. Louis, Maya is attacked by a man many times her age–and has to live with the consequences for a lifetime. Years later, in San Francisco, Maya learns about love for herself and the kindness of others, her own strong spirit, and the ideas of great authors ("I met and fell in love with William Shakespeare") will allow her to be free instead of imprisoned. (

Source

)




Bitch Is the New Black: A Memoir
- Helena Andrews



Ugly Ways
- Tina McElroy Ansa


The bestselling tale-powerful, compassionate, humorous-of the three Lovejoy sisters reunited in their hometown of Mulberry, Georgia, on the occasion of their mother's death. As the emotionally scarred Lovejoys prepare for their mother's funeral, the spirit of the selfish and manipulative Mudear hovers above them, complaining about her daughters' "ugly ways" in death as she did in life. (

Source

)




Those Bones Are Not My Child: A Novel
- Toni Cade Bambara



Daughter : A Novel
- asha bandele


At nineteen, Aya is a promising Black college student from Brooklyn who is struggling through a difficult relationship with her emotionally distant mother, Miriam. One winter night, Aya is shot by a white police officer in a case of mistaken identity. Keeping vigil by her daughter's hospital bed, Miriam remembers her own youth: her battle for independence from her parents, her affair with Aya's father, and the challenges of raising her daughter. But as Miriam confronts her past -- her losses and regrets -- she begins to heal and discovers a tentative hopefulness. (

Source

)




Kindred
- Octavia Butler


Dana, a modern black woman, is celebrating her twenty-sixth birthday with her new husband when she is snatched abruptly from her home in California and transported to the antebellum South. Rufus, the white son of a plantation owner, is drowning, and Dana has been summoned to save him. Dana is drawn back repeatedly through time to the slave quarters, and each time the stay grows longer, more arduous, and more dangerous until it is uncertain whether or not Dana's life will end, long before it has a chance to begin. (

Source

)






Parable of the Sower
- Octavia Butler


When unattended environmental and economic crises lead to social chaos, not even gated communities are safe. In a night of fire and death Lauren Olamina, a minister's young daughter, loses her family and home and ventures out into the unprotected American landscape. But what begins as a flight for survival soon leads to something much more: a startling vision of human destiny... and the birth of a new faith. (

Source

)






32 Candles: A Novel
- Ernessa T. Carter



The Other Side of Paradise: A Memoir
- Staceyann Chin



Unbought and Unbossed
- Shirley Chisholm


Unbought and Unbossed is Shirley Chisholm's account of her remarkable rise from young girl in Brooklyn to America's first African-American Congresswoman. She shares how she took on an entrenched system, gave a public voice to millions, and sets the stage for her trailblazing bid to be the first woman and first African-American President of the United States. By daring to be herself, Shirley Chisholm shows us how she forever changed the status quo. (

Source

)




Babylon Sisters: A Novel
- Pearl Cleage



The Collected Poems of Lucille Clifton 1965-2010
- Lucille Clifton



Black Feminist Thought: Knowledge, Consciousness, and the Politics of Empowerment
- Patricia Hill Collins



Wild Stars Seeking Midnight Suns
- J. California Cooper


J. California Cooper's irresistible collection of new stories explores the universal themes of romance, family, and the hopes that propel people's dreams. In "As Time Goes By" a young woman singlemindedly pursues material wealth, only to suffer from an empty heart. "Catch a Falling Heart" tells of a slyly arranged marriage, and "The Eye of the Beholder" portrays a plain girl's search for love and her own brand of freedom. Wise, earthy and intimate, these stories are moving parables of the human need to seek some sort of satisfaction, just as a wild star seeks a midnight sun. (

Source

)




Breath, Eyes, Memory
- Edwidge Danticat


At the age of twelve, Sophie Caco is sent from her impoverished village of Croix-des-Rosets to New York, to be reunited with a mother she barely remembers. There she discovers secrets that no child should ever know, and a legacy of shame that can be healed only when she returns to Haiti--to the women who first reared her. What ensues is a passionate journey through a landscape charged with the supernatural and scarred by political violence, in a novel that bears witness to the traditions, suffering, and wisdom of an entire people. (

Source

)






The Farming of Bones
- Edwidge Danticat


The Farming of Bones begins in 1937 in a village on the Dominican side of the river that separates the country from Haiti. Amabelle Desir, Haitian-born and a faithful maidservant to the Dominican family that took her in when she was orphaned, and her lover Sebastien, an itinerant sugarcane cutter, decide they will marry and return to Haiti at the end of the cane season. However, hostilities toward Haitian laborers find a vitriolic spokesman in the ultra-nationalist Generalissimo Trujillo who calls for an ethnic cleansing of his Spanish-speaking country. As rumors of Haitian persecution become fact, as anxiety turns to terror, Amabelle and Sebastien's dreams are leveled to the most basic human desire: to endure. (

Source

)






Daughters of the Dust: A Novel
- Julie Dash



Women, Race, & Class
- Angela Davis


A powerful study of the women's movement in the U.S. from abolitionist days to the present that demonstrates how it has always been hampered by the racist and classist biases of its leaders. (

Source

)






The Black Notebooks: An Interior Journey
- Toi Derricote


The Black Notebooks is one of the most extraordinary and courageous accounts of race in this country, seen through the eyes of a light-skinned black woman and a respected American poet. It challenges all our preconceived notions of what it means to be black or white, and what it means to be human.(

Source

)




My Soul to Take: A Novel
- Tanarive Due



The Girl Who Fell from the Sky
- Heidi Durrow
Forced to move to a new city, with her strict African American grandmother as her guardian, Rachel is thrust for the first time into a mostly black community, where her light brown skin, blue eyes, and beauty bring a constant stream of attention her way. It's there, as she grows up and tries to swallow her grief, that she comes to understand how the mystery and tragedy of her mother might be connected to her own uncertain identity.
The Joys of Motherhood
- Buchi Emecheta







Before You Suffocate Your Own Fool Self
- Danielle Evans



Plum Bun: A Novel Without a Moral
- Jessi Redmon Fauset



Head Off & Split: Poems
-Nikky Finney


Artful and intense, Finney's poems ask us to be mindful of what we fraction, fragment, cut off, dice, dishonor, or throw away, powerfully evoking both the lawless and the sublime.



When and Where I Enter: The Impact of Black Women on Race and Sex in America
- Paula Giddings



If It Wasn't for the Women...: Black Women's Experience and Womanist Culture in Church and Community
- Cheryl Townsend Gilkes



The Collected Poetry of Nikki Giovanni: 1968-1998
- Nikki Giovanni



The Friends
- Rosa Guy



Words of Fire: An Anthology of African-American Feminist Thought
- Beverly Guy-Sheftall



A Raisin in the Sun
- Lorraine Hansberry



Iola Leroy, or, Shadows Uplifted
- Frances E. W. Harper

Sister Citizen: Shame, Stereotypes, and Black Women in America
- Melissa Harris-Perry



Nappy Hair
- Carolivia Herron



All About Love: New Visions
- bell hooks



Feminist Theory: From Margin to Center
- bell hooks



Of One Blood: Or, the Hidden Self
- Pauline Hopkins


Brown Girl in the Ring
- Nalo Hopkinson



But Some Of Us Are Brave: All the Women Are White, All the Blacks Are Men: Black Women's Studies
- Gloria T. Hull




Dust Tracks on a Road: An Autobiography - Zora Neale Hurston



Their Eyes Were Watching God
- Zora Neale Hurston




Incidents in the Life of a Slave Girl - Harriet Jacobs



Silver Sparrow
- Tayari Jones



A Small Place
- Jamaica Kinkaid



Quicksand
- Nella Larsen



Small Island: A Novel
- Andrea Levy



Sister Outsider: Essays and Speeches
- Audre Lorde



Zami: A New Spelling of My Name - A Biomythography
- Audre Lorde



A Belle in Brooklyn: The Go-to Girl for Advice on Living Your Best Single Life
- Demetria Lucas




Unbowed: A Memoir- Wangari Maathai



Brown Girl, Brownstones
- Paule Marshall



The Twelve Tribes of Hattie
- Ayana Mathis



Gathering of Waters
- Bernice McFadden



How Stella Got Her Groove Back
- Terry McMillan



Daddy Was a Number Runner
- Louise Meriwether



Coming of Age in Mississippi
- Anne Moody



When Chickenheads Come Home to Roost: A Hip-Hop Feminist Breaks It Down
- Joan Morgan



The Bluest Eye
- Toni Morrison



Beloved
- Toni Morrison



Song of Solomon
- Toni Morrison



The Women of Brewster Place
- Gloria Naylor



The Broke Diaries: The Completely True and Hilarious Misadventures of a Good Girl Gone Broke
- Angela Nissel



Who Fears Death
- Nnedi Okorafor



Drinking Coffee Elsewhere
- ZZ Packer



Topdog/Underdog
- Suzan-Lori Parks



Wench: A Novel
- Dolen Perkins-Valdez



The Street: A Novel
- Ann Petry



Darkest Child: A Novel
- Delores Phillips



Ella Baker and the Black Freedom Movement: A Radical Democratic Vision
- Barbara Ransby



Killing the Black Body: Race, Reproduction, and the Meaning of Liberty
-Dorothy Roberts



Homegirls and Handgrenades
- Sonia Sanchez



Push: A Novel
- Sapphire



Assata: An Autobiography
- Assata Shakur



For colored girls who have considered suicide/When the rainbow is enuf
- Ntozake Shange



Some Sing, Some Cry: A Novel
- Ntozake Shange and Ifa Bayeza

Teaching My Mother How To Give Birth - Warsan Shire



I Put A Spell On You: The Autobiography Of Nina Simone
- Nina Simone



The Coldest Winter Ever
- Sister Souljah



Home Girls: A Black Feminist Anthology
- Barbara Smith



On Beauty
- Zadie Smith



White Teeth: A Novel
- Zadie Smith



The Taste of Salt
- Martha Southgate



Cane River
- Lalita Tademy



Narrative of Sojourner Truth
- Sojourner Truth



On Black Sisters Street: A Novel
- Chika Unigwe



The Color Purple
- Alice Walker



In Search of Our Mothers' Gardens: Womanist Prose
- Alice Walker



Jubilee
- Margaret Walker



Black, White & Jewish: Autobiography of a Shifting Self
- Rebecca Walker



Black Macho and the Myth of the Superwoman
- Michele Wallace



Salvage the Bones: A Novel
- Jesmyn Ward



Southern Horrors and Other Writings; The Anti-Lynching Campaign of Ida B. Wells, 1892-1900
- Ida B. Wells



The Warmth of Other Suns: The Epic Story of America's Great Migration
- Isabel Wilkerson



Sisters in the Wilderness: The Challenge of Womanist God-Talk
- Delores Williams



Color Blind: A Memoir
- Precious Williams



Our Nig, Or, Sketches From the Life of a Free Black, in a Two-Story White House
- Harriet Wilson



Addicted: A Novel
- Zane