Vogue Netherlands Publishes Another Blackface Editorial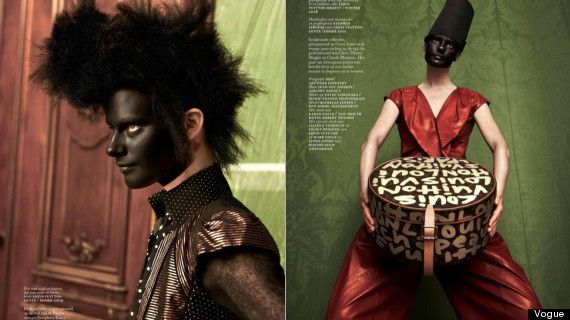 Vogue Netherlands published an editorial that features white models with their faces painted black. At this point, magazines and photographers pull these types of stunts with the intent to draw criticism and boost sales, so I feel conflicted about even mentioning it. But this is a great time to think about the things we call blackface and the implications of the label.
This certainly qualifies as blackface. "They just don't know" or "Blackface isn't a big deal in Europe" are not adequate defenses of these photographs. The Netherlands has a long, disconcerting relationship to the practice. Black residents have criticized
Zwarte Piet
, an important figure in Belgian Christmas tradition, who appears in blackface.
The modeling world is far from post-racial. There still remains a clear preference for white models. In the context of global white supremacy, these images represent a blatant refusal on the part of the those in charge of the shoot to wrestle with their own white privilege. But is this worth getting upset over?
Do these images offend you?
Related:
Counterfeit African Queen: What the Hell is Wrong with Fashion?
Why We Shouldn't Pretend Dolce & Gabbana's Earrings Aren't Racist
---
Kimberly Foster is the founder and editor of For Harriet. Email or
Follow @KimberlyNFoster