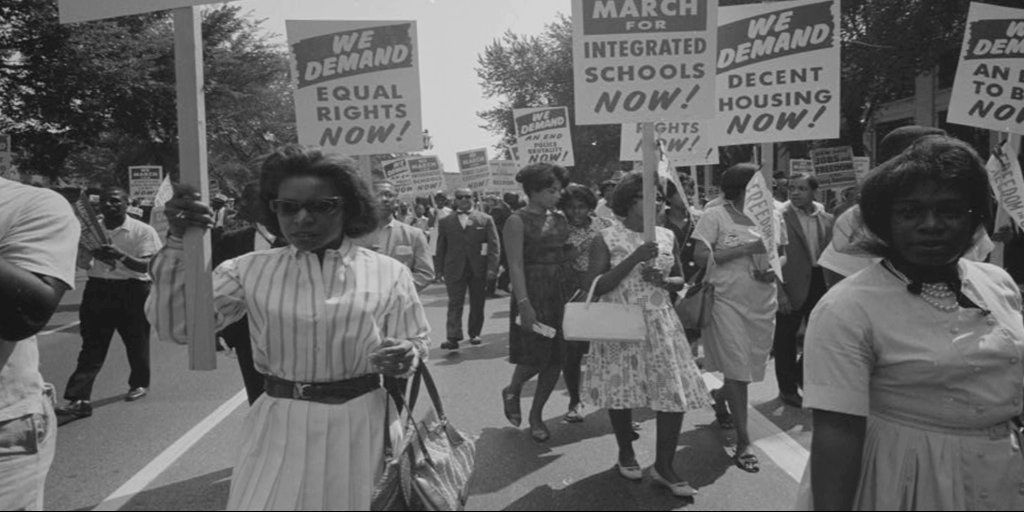 The contributions of Black women to shaping and changing the world for the better are often minimized. At every moment in history, Black women have worked alongside their more famous male conterparts. We've assembled a list of just a few of the women for whom we are grateful.
In 1957, Baker moved to Atlanta to help organize Martin Luther King's new organization, the Southern Christian Leadership Conference (SCLC). She also ran a voter registration campaign called the Crusade for Citizenship.
On February 1, 1960, a group of black college students from North Carolina A&T University refused to leave a Woolworth's lunch counter in Greensboro, North Carolina where they had been denied service.
Baker left the SCLC after the Greensboro sit-ins. She wanted to assist the new student activists because she viewed young, emerging activists as a resource and an asset to the movement. Miss Baker organized a meeting at Shaw University for the student leaders of the sit-ins in April 1960. From that meeting, the Student Nonviolent Coordinating Committee -- SNCC -- was born
The Long Shadow of Little Rock: A Memoir
. She died in 1999.
It was only five years ago that the model-turned-DJ created the nonprofit organization Black Girls Rock! Her goal was to build the self-esteem of young women of color by offering mentorship and enrichment through arts programs. Last fall the organization teamed up with Black Entertainment Television to create a Black Girls Rock! show that drew 2.5 million viewers and honored trailblazers such as Ruby Dee, Missy Elliot and Iyanla Vanzant.
Brown's leadership was met with hostility by the predominantly male rank-and-file membership, butBrown continued to develop and expand services to the community, such as the free-breakfast program, free legal and medical clinics, and the Oakland Community Learning Center, which was recognized by the city of Oakland for academic excellence. (
Source
)
By the time of her firing in1956, Clark had already begun to conduct workshops during her summer vacations at the Highlander Folk School in Monteagle, Tennessee, a grassroots education center dedicated to social justice.
When the state of Tennessee forced Highlander to close in 1961, the Southern Christian Leadership Conference (SCLC) established the Citizenship Education Program (CEP), modeled on Clark's citizenship workshops. (
source
)
A Voice from the South
, "only the BLACK WOMAN can say when and where I enter, in the quiet, undisputed dignity of my womanhood, without violence and without suing or special patronage, then and there the whole Negro race enters with me." She fought tirelessly throughout her life to re-center and uplift the voice of black women in pursuit of a more just society for everyone. (
source
)
Women, Race, & Class
, she has worked as a professor and activist who advocates gender equity, prison reform and alliances across color lines. (
source
)
Height's leadership work in civil rights progressed from her early work in Harlem and a first of many meetings with First Lady Eleanor Roosevelt in the 1930s, to encouraging President Eisenhower to desegregate schools in the 1950s, speaking alongside Martin Luther King, Jr., and, in the 1960s, organizing integrated women partnerships with a public presence in the schools, known as 'Wednesdays in Mississippi.' Her humanitarian work continued in later decades at the international level as well, advising and traveling with programs sponsored by the Council to the White House Conference, UNESCO, the Institute on Human Relations of the American Jewish Committee, USAID, and the United States Information Agency, among others. (
source
)
For over 30 years she lived in New York and during this time became an active member of the American Communist party, an organisation in which her journalistic and community leadership skills were maximised. By 1948 she had become the editor of Negro Affairs for the party's paper the Daily Worker and had evolved into an accomplished speaker on human and civil rights.
In 1955 she was deported from the US and given asylum in England, where she spent her remaining years working with London's African-Caribbean community. She founded and edited The West Indian Gazette which despite financial problems remained crucial in her fight for equal opportunities for black people.
She chaired the CPUSA's National Women's Commission, was a leader in the National Peace Council and was the editor of Negro Affairs, the publication of the party's National Negro Commission.
In 1938 she began a campaign to enter the all-white University of North Carolina. With the support of the National Association for the Advancement of Colored People (NAACP). However, it was not until 1951 that Floyd McKissick became the first African American to be accepted by the University of North Carolina. aIn 1941 Murray enrolled at the Howard University law school with the intention of becoming a civil rights lawyer. The following year she joined with George Houser, James Farmer and Bayard Rustin, to form the Congress of Racial Equality (CORE).
After Murray graduated from Howard University in 1944 she wanted to enroll at Harvard University to continue her law studies. In her application for a Rosenwald Fellowship, she listed Harvard as her first choice. She was awarded the prestigious fellowship but after the award had been announced, Harvard Law School rejected her because of her gender. Murray went to the University of California Boalt School of Law where she received a degree in law.
In 1956 Murray published Proud Shoes: The Story of an American Family, biography of her grandparents, and their struggle with racial prejudice and a poignant portrayal of her hometown of Durham. In 1960 Murray travelled to Ghana to explore her African cultural roots. When she returned President John F. Kennedy appointed her to his Committee on Civil and Political Rights. In the early 1960s Murray worked closely with Philip Randolph, Bayard Rustin and Martin Luther King but was critical of the way that men dominated the leadership of these civil rights organizations.
From 1890 to 1897 Ruffin served as the editor and publisher of Woman's Era, the first newspaper published by and for African American women. It was used to highlight the achievements of African American women and to champion black women's rights.
In 1894 she organized the Women's Era Club, an advocacy group for black women, with the help of her daughter Florida Ridely and Maria Baldwin, a Boston school principal.
Ruffin died on March 13, 1924. (
source
)
Maria, who was largely self-taught, stressed the importance of morality and self-improvement to her audiences. In addition to religion, she insisted that blacks pursue education. When "knowledge would begin to flow," she wrote, "the chains of slavery and ignorance would melt like wax before flames." Maria went on to become a public school teacher in New York and the founder of schools in Baltimore and D.C. Her dedication to fighting black oppression through teaching, writing, and speaking was relentless. (
source
)
In 1851, Truth went on a nation-wide lecture tour. She gave her most famous speech, "Ain't I a Woman?" at a woman's rights conference in Akron, Ohio, in 1851, where all of the other speakers were men.
After years working for civil rights and social-justice organizations that include the NAACP Legal Defense and Educational Fund, the American Civil Liberties Union and the Open Society Institute, Wiley started the Center for Social Inclusion to address the public policies that have led to socioeconomic disparities. The organization, which works to dismantle structural racism and inequity, is currently collaborating with black farmers in South Carolina to help build farmers markets, as well as with education advocates in Mississippi to help shape funding decisions.
---
Follow @ForHarriet