Killing Black Children is an American Tradition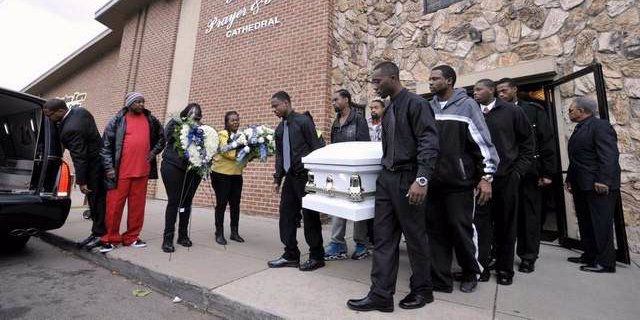 by Stacey Patton
As we grieve, rage, and try to assess the verdict in the racially-charged Michael Dunn murder case, it is essential for us to remember that the brutal and random killings of black children like Aiyana Jones Jordan Davis, Travyon Martin, Kimani Gray, Darius Simmons, Renisha McBride, and Dione Payne who was beaten, raped and killed by two white men in 2012, is nothing new.
As strange as this may sound, destroying black children is an indelible part of a long American tradition of preserving white supremacy.
The destruction of black children's lives has roots stretching back into the post-emancipation period when 4 million black people lost their economic value as "property" owned by white slave masters. In return for their lost economic value, black children were further devalued, unlike white children who became national symbols of innocence and worthiness. As white children were sentimentalized and constructed as the "standard" for normal development, reformers argued that they needed protection and social investment as future citizens.
In my own research on the history of black childhood, I have learned that beatings, lynchings, shootings, burnings, rapes, and blowing up adolescents with dynamite were not only necessary for the machinery of white supremacy to operate, but those unpunished crimes completely contradicted the ethos of the Progressive era's so-called "age of the child," which lasted from about 1880 to 1920.
"Child savers" recognized that children were unique and emotionally valuable. "A right to childhood," was their mantra, and they argued that childhood was a "sacred space" where young people were to be nurtured, educated, given free time to explore and develop untouched by the evils of the adult world. But black children were denied the right to childhood, and they were exempted from the category of innocence. Let me give you a few graphic examples to illustrate my point.
Iconic black educator, writer and social activist W.E.B. Du Bois was known as a sophisticated intellectual. But when his family was threatened, he showed another side.
In 1906 when his daughter Yolande was six years old, Du Bois found himself sitting on the front steps of his Atlanta University campus home armed with a double-barreled shotgun and two-dozen rounds of shells filled with buckshot as 10,000 angry whites took to the streets for four days, burning black homes, businesses and schools. Venting their frustrations over black people stepping "out of their place," the mobs assaulted hundreds and massacred scores of victims. They didn't spare black children—white men and boys badly beat a crippled black boy and even tossed a black infant into the air and used it for target practice by shooting bullets into its body.
To protect his wife and child, Du Bois later wrote—"If a white mob had stepped on the campus where I lived I would have without hesitation have sprayed their guts over the grass."
To put the recent atrocities against black children into context, consider these examples:
In 1908 in Salisbury North Carolina, a white mob lynched two unnamed black boys. The youngest of the victims was 13, and he was made to climb a tree with a rope around his neck and jump to death. A local reporter noted, "He was not even old enough to control his feelings, and broke down and cried just before the fatal leap was made. After the boys were hung, torches were applied to their feet to make sure they were dead, and then the mob dispersed."
In Taft, Oklahoma in 1911, a group of men crawled under the house where Herbert and Castella Sells were sleeping and blew them up with sticks of dynamite. Neighbors held back their screaming mother to keep her from trying to rescue the children's burning bodies from the flames. The Sells children were killed because they owned property in an oil field in Glen Pool. Their greedy white guardian hatched the murderous plot because he wanted to gain control over their estate. Murders of innocent landowning black (and Native American) children happened all over Indian Country in the early decades of the 20th century.
In Monticello, Georgia in 1915, a mob of 100 whites stormed the Jasper County jail, took the keys from the sheriff, and marched Don Barber, his two young daughters and son to a nearby tree where they were hung one at a time from the same rope. As their arms and legs squirmed, men in the mob riddled their bodies with bullets.
I could go on and on giving you names and details of these horrible incidents. There are untold numbers of reported stories of racial violence against black children from all over the country.
Children ranging between 8 and 19 years-old were hung from cherry trees, set on fire, shot, and their corpses were dragged through the streets. Most of them were boys accused of raping, assaulting, or insulting white girls. Others were killed for allegedly stealing, prowling in white homes, throwing rocks at white playmates, scaring white children, or allegedly threatening to kill white people. Black teenage girls who were lynched were accused of slapping white children in their care or poisoning the families they worked for. Others were lynched for defending themselves against white men who tried to rape them.
If you closely analyze the news coverage of those old killings you'll see a familiar narrative of white fear and a fixation on the "character" and physiognomy of the victims.
Over and over again the murdered children were called "bad boys." There was a morbid fixation on the overdeveloped body parts of the children, just as there was in the medical literature of the time, which said that black children's brains closed up during adolescence and as a result their large genitals drove them to rape and engage in other deviant behaviors. For
example, when 14-year-old Emmett Till was murdered, the perpetrators said, "he looked like a man." The same was said about Trayvon Martin.
Remember how George Zimmerman's attorney during his closing argument showed the jury a life-size cutout of Martin and Zimmerman to illustrate their size disparity? And remember how the defense attorney repeatedly referred to Martin as a "young man," while the prosecutors called him a "boy" in attempt to restore him to childhood, to carve a space for him in the category of innocence, to humanize him with emotions, to try to convince the jurors that Martin was afraid for his life?
As we consider how to create an organized a response to protest and try to stop these killings, it's important to know that in the past, black people didn't sit idly by while white people repeatedly violated and killed their children like dogs.
The NAACP and the Afro-American Society of Chicago, for example, led protests and appealed to the nation's leaders to enact anti-lynching legislation. Some, like the parents of Fred Moore, turned to a federal court to win simple justice after his lynching in 1933 in New Orleans. The Moores sued the sheriff who allowed the lynch mob to seize him from the jail. The court awarded them $2,500, the first successful lawsuit of its kind. And in a few cases, members of black communities beat, shot, or lynched white men who raped or killed black children. Perhaps we should draw lessons from all of these strategies to protect our children.
Today, black parents across America are in the same quandary that they were during the segregation era because the very notion of black childhood continues to be tied up in the definition of black people as property, as subhuman, and inherently dangerous. In other words, there's no such thing as a black child.
Black childhood, in the western sense of the word, has never really existed. And out of a long history of devaluation and dehumanization, white Americans still do not think that black children are actually children—innocent, valued, worthy of protection. Black children have been recognized as an age group, but in white racist ideology our children have never conformed to western notions of childhood, even as those notions were under construction for white children.
Progressive reformers, leaders of the early 20th century child study movement, white supremacists, and eugenicists all recognized the centrality of rethinking childhood to set and achieve their racist social and political goals. The construction of childhood as a set of defined sequential stages en route to adulthood, along with notions of innocence, were reserved for whites only. These elements were a critical part of denying full citizenship to black Americans, and extending certain privileges and protections to their children.
On a practical level, the exclusion of black children from childhood, contributed to the construction of normalcy and innocence of the white child. That's why we'll never read stories about grown black men killing unarmed white children and getting away with it. On a rhetorical
level, stereotypes—of black children as dangerous, morally degenerate, criminal, intellectually inferior, and sexually precocious – have always justified their ongoing devaluation, and their murders.
Until black Americans understand this history, I mean really grasp that there is no such thing as an innocent, worthy, protected black child then we can never fully understand what's behind the murders of our Trayvon Martins, and our Jordan Davis's.
And unless we understand that, without us doing something to at least try to intervene, the "browning" of America—the fact that most babies born today in the U.S. are of color—will intensify the motivation behind these attacks: white fear of being outnumbered, dominated and wiped out by persons of color.
After all, white supremacy is at the very root of our system of governance: majority rules. The fear of losing that power, status, privilege and control is nothing new; it is, in fact, woven throughout our history like a heinous, blood-and-tear-soaked thread. Although the images and the specifics of an ongoing history of white supremacist violence against innocent black children is difficult to "digest," especially for those who live with the consequences resulting from racial terror, we must not forget this history, we must not forget the lives lost, and the specter of racial violence.
This part of our history is every bit as vital as learning the names of the inventors, the achievers, and the "firsts." Because until we do, we will forever be shaking our fists in impotent rage and our heads in grieving bewilderment. History will continue to repeat itself until we see and are ready to address the real truth: that America's long tradition of denied humanity and denied innocence to black children continues to contribute to a culture that denies them protection and empathy.
---
Stacey Patton is a senior enterprise reporter with The Chronicle of Higher Education and holds a Ph.D. in African American history from Rutgers University. She is also the author of That Mean Old Yesterday--A Memoir, and is the creator of
www.sparethekids.com.