All is Not Well With Our Girls: When Suicide Hits Close to Home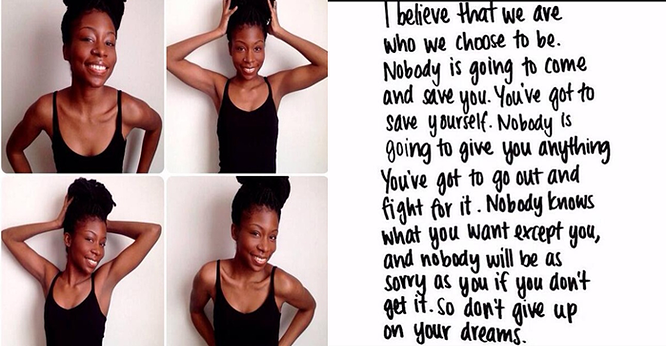 by Tiffany Gill of
Black Girls Unscripted
I remember reading about Karyn Washington, founder of
@ForBrownGirls
and the #DarkSkinRedLipProject, back in 2012. Madame Noire did a few great features on her and I was intrigued by her story. Being a member of the brown-skinned girls club myself, I could easily relate to the need for such a platform to boost the confidence of browner-hued women who are often excluded from mainstream beauty discussions.
Although I never met Karyn (we're from the same city), I, like many others who followed her, was saddened to learn this morning of her apparent suicide. It's amazing the connections and bonds we create through words, shared experiences, and images only. We don't know all the details of Karyn's death. But the truth is the details don't matter. What matters is that a family has suffered the loss of a beautiful daughter, sister, auntie, niece, cousin and friend, and our hearts go out to them. What also matters is that Karyn's death could have been, should have been, avoided.
Karyn's story strikes a painful cord for me, although admittedly, one with a much different ending. In 2012, my then 13-year-old former mentee shared with me her suicide attempt. She invited me to her home, showed me the healed scars on her wrists and explained that she wanted to end her life because she'd grown tired of not feeling pretty and being teased about her dark skin and course hair. Her story literally changed the trajectory of my life.
Thankfully, Alisha is receiving treatment and is coming along well. But I would later discover that there are many girls of color suffering with depression, bipolar disorder, bulimia and other image disorders. They cut themselves, engage in risky behaviors and yes, they sometimes commit suicide. Mental health issues, along with the lack of proper treatment, underdiagnoses and the stigma it often carries, is a very serious problem in the Black community. And this is especially true for our young women and girls. A recent study conducted by the African American Policy Forum revealed that Black girls have higher incidence of emotional difficulties than other girls, including signs of depression. A separate national study found that 67% of Black girls indicated that they felt sad or hopeless for two or more weeks straight, compared to 31% of white girls and 40% of Latina girls.
Creating a platform for girls and young women to tell their own stories - stories of triumph and pain - is the reason I started
Black Girls Unscripted
. It's the reason amazing volunteers lend their time and talent to this work. And it's the reason we work tirelessly to grow this much needed movement.
We don't know Karyn's story. Perhaps she, like many other "strong" black women did an incredible job of masking her pain. Or, it's equally as possible that she recognized that she needed help and sought treatment for mental illness. What we know is that something went terribly wrong and we owe it to Karyn, and others with similar struggles, to find out what happened and work to fix it.
We can start in own homes by checking in on our daughters, sisters, nieces, aunts and sister-friends with the periodic "how are you" calls and sit downs. No texting, no tweeting, no Facebook messages - real human interaction. We can learn to practice better self-care so that we allow ourselves the freedom to deal with our often weighty emotions and experiences.
Let's be careful how we use the word 'strong' in context to our womanhood when we speak to our daughters (and each other). Strong is not a state of being. Instead, it is often a reaction born out of necessity. It does not mean hardened or immune to pain, fear and disappointment. Let's also teach them the difference between 'feeling' and 'being.' Feeling unloved or unworthy in the moment is never the same as being unloved or unworthy.
We must begin to practice a culture of TRUTH. A culture that speaks to our pain as much as our power. A culture that creates spaces for us to safely unload our problems. A culture that welcomes and embraces the truth about how beautiful, loved and valued we are. And most importantly, a culture of truth that affirms our full humanity.
Because, in the end, it is often the truth we don't share that will be the most harmful.
RIP dearest, Karyn...we wish you a peaceful journey...
---
Tiffany Gill is a writer, up-and-coming filmmaker and founder of
BlackGirlsUnscripted.org
. When she's not wearing her #GirlhoodDefender cape, you will find her at the nearest bakery trying out every chocolate dessert available.