Unarmed, Mentally-Ill Woman Dies After Cops Slam Her on Pavement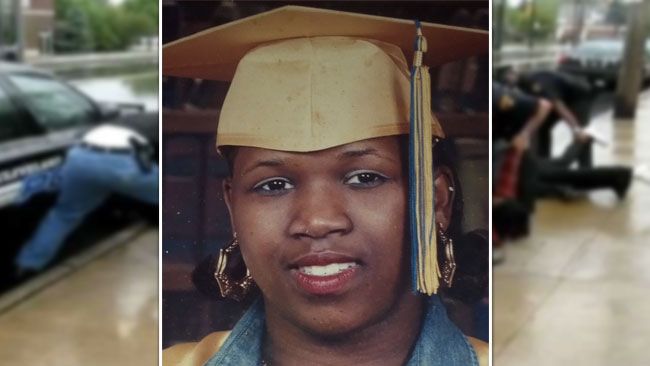 by Brandon Blackwell
A 37-year-old bipolar and schizophrenic woman died after police slammed her to the pavement outside her family's home, her brother said.
Tanesha Anderson was pronounced dead at Cleveland Clinic early Thursday after an altercation with officers nearly two hours earlier outside her home on the 1300 block of Ansel Road.
"They killed my sister," her 40-year-old brother Joell Anderson said with welling eyes in his living room Thursday night. "I watched it."
Officers were called to the home after a family member reported that Anderson was disturbing the peace.
Patrolmen had lengthy discussions with Tanesha Anderson and members of her family. Everyone agreed she should undergo an evaluation at St. Vincent Charity Medical Center, police said.
The official police account of what happened next is at odds with what several members of Tanesha Anderson's family said they witnessed.
"As the officers escorted Anderson to the police vehicle, she began actively resisting the officers," police spokesman Sgt. Ali Pillow said in a press release.
Officers placed her in handcuffs and she began to resist officers' attempts to put her in a squad car, Pillow said.
"The woman began to kick at officers," he said. "A short time later the woman stopped struggling and appeared to go limp. Officers found a faint pulse on the victim and immediately called EMS."
Joell Anderson gave a different account.
"She was more of a danger to herself than others," he said.
Two male officers escorted Tanesha Anderson, who was prescribed medication for bipolar disorder and schizophrenia, to the police cruiser. She sat herself in the backseat but became nervous about the confined space and tried to get out, Anderson said.
Police struggled to keep her in the car and an officer eventually drew a Taser. Joell Anderson said he begged the officer not to use the weapon on his sister.
Tanesha Anderson called out for her brother and mother while an officer repeatedly pressed down on her head to get her into the backseat. After several attempts, the officer used a takedown move to force her to the pavement, Joell Anderson said.
The officer placed his knee on Tanesha Anderson's back and handcuffed her. She never opened her eyes or spoke another word, her brother said.
Continue reading
Photo Credit: Joell Anderson