More Prisons Need a Father-Daughter Dance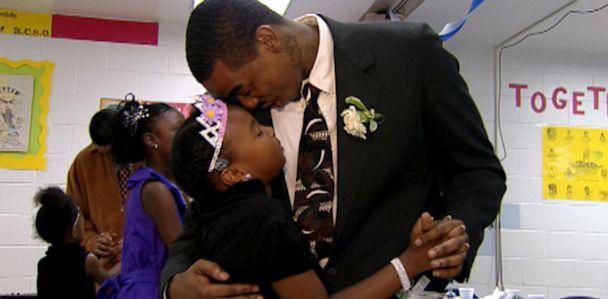 by Michelle Talbert
Last week,
the Federal Detention Center in Miami held its first "Father-Daughter Dance"
for inmates who are nearing release, in an effort to aid re-entry into society and reconnect with family members. I couldn't bring myself to read about the story at first, because I knew when I read it I would cry. I had this same hesitation when my friend and For Harrier sister-writer, Diana Veiga penned this amazing amazing
ode to her daddy
, speaking of her father's presence and conscious decision to be a strong figure in her life.
My biological father, Tony Seymour, Sr., was murdered in 1992. I was 22 years old, with two young children of my own by then. He never met my daughter and had only met my son once—the last time I would see him alive. Even though I can count the number of times I remember being in his presence on two hands, I still cried at his funeral.
My father was what we'd call a "rolling stone." He was an amazing performer in his heyday—the first Bahamian to earn a gold record. (Think the Bahamian Bob Marley.) By our count, he fathered 14 of us all together. And when the day of his funeral arrived, there were eight of us joined together on the stage of Garden Gates Assemblies of God church in Nassau—arms across shoulders, standing side by side, heads bowed. We cried together as we stood next to his coffin.
Some of us cried tears because we carried guilt from the harsh words we'd spoken to our addiction-battling father, the last words we'd ever speak to him. Some of us cried because of the words we didn't have the opportunity to speak to him when he was still alive. All of us cried for what would never be: a healthy, loving, safe relationship with our father. All we had were the stories from our mothers, about this man who loved us as best he knew how. But that love was not enough.
Although I was blessed with an amazing dad who came into my life when I was nine (I don't call him my stepfather), I still feel a sense of loss from never truly knowing and having my biological father in my life.
A father's presence and love must be felt. And when it's not, women will often share how this has affected them. From the
pain-ridden poem
of Brianna Armstrong: "I'm one of many girls who grew up with daddy issues, I don't even know who you are but subconsciously I miss you." And from the daughter who reached out to Iyanla to fix the life of the man who fathered her and her 33 siblings (only to be basically absent from all of their lives), we feel the loss of our absentee fathers. That sense of loss shapes our relationships with men going forward.
And that's what makes the Father-Daughter Dance at the detention center in Miami so significant. It gives incarcerated men the opportunity to connect with their children—like
this little girl
's father obviously has. enough to dance with her. It is not simply about pretty little girls in pretty little dresses dancing with their well-dressed daddies. But it is offering these fathers a chance to be present in their children's lives, despite having been behind bars. This will affect how he shows up for her later in life. And ultimately, this will affect how she chooses romantic partners in the future.
If her father lets her know she is beautiful and smart, she will look for a mate who also values these qualities in her. If her father is present and active in her life, this models the type of behavior she can expect from the father of her own future children, especially her daughters.
As Jill Scott sings so eloquently, "Daddy, we need you."
Photo Credit: ABC News
Michelle Y. Talbert is a recovering corporate attorney turned relationship strategist and social media content producer. She's NYC born and bred, but you can find her living and loving in Washington, DC. She produces and co-hosts the popular podcast, "They Met Online…" with her ex, who she met online (it's not complicated at all!) Connect with Michelle on Twitter @BlackLoveRules and on LinkedIn.